If you are engaged in flood restoration or fire restoration, you need a moisture meter that you can rely on. Following these disasters, measuring the moisture content of wood and other structural elements is critical throughout every stage of the restoration effort. Not only will high moisture levels cause significant structural damage, they can allow for the growth of mold.
For these and many other reasons, it is necessary for restoration specialists to take extra steps to monitor and remove moisture from any water damaged structure as quickly as possible. While standing water following a disaster is easy to locate and remove, it's the water that cannot be seen that will often cause the most damage.
Steps to take when tackling a water damage restoration project include:
1. Using the appropriate water-extraction equipment to remove any standing water. If you can see it, you need to remove it before proceeding any further. Appropriate water extraction equipment would include commercial water extractors, not standard household vacuums. Standard vacuums simply lack the ability to handle large water spills.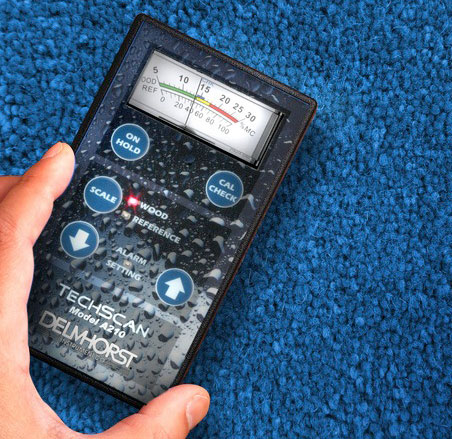 2. Once the standing water is removed, inspect the walls, furniture, and other objects in the home for signs of dampness. It is only natural to assume that the entire home and everything in it has become saturated with moisture in the case of a flood. Next, it is a good idea to reach into your tool box for both pin and pinless-type moisture meters to measure the moisture content of your concrete subfloors, walls, and ceiling elements. Be sure that your meters can be used to check moisture in drywall, insulation, wood, concrete, and plaster. You should use your meter to trace leaks to find exterior moisture and dry rot.
3. High-quality moisture meters allow restoration specialists to quickly and accurately measure the moisture content of wood, concrete, and gypsum. The measurements that are returned help identify areas where further testing might be required.
4. If any of these measurements indicate that an area has been saturated with moisture, it can be marked and tracked closely throughout the remaining stages of the restoration process.
5. Improve air flow in the affected areas of the home. If you find that a specific area has too much moisture, try setting up air movers and dehumidifiers to optimize the air flow in that room. This will help you by reducing the overall amount of moisture in the room.
6. Inspect your water-damaged furniture and belongings. Try to sort out items that are recoverable from those that are too damaged to salvage. If you have flood insurance, make a note of each item that you would consider to be a loss so that you can make a complete report of your losses for your insurance claim. Removing objects that are too damaged to be saved can help you reduce the overall moisture level in the building.
Many people might assume that moisture is not an issue when they are dealing with a fire damage restoration project, but the fact is that fires can expose gaps in the structure of the roof, and the efforts of firefighters and sprinkler systems may actually introduce moisture into the home. So, when you are trying to restore a home after a fire, you may still need to follow the above steps for monitoring and controlling moisture after a flood event.
Hopefully, you will not need to use a moisture meter to aid in disaster repair efforts. However, there are more uses for a well-designed meter than just finding problem areas in an emergency repair job. Whether you are getting ready to install new flooring, checking for mold risks, or are trying to find damp areas of a building after a flood, a well-made moisture meter can be an invaluable tool for spotting trouble areas.
Make sure that you have the best tool for whatever moisture measurement job you have. Contact us at 1-877-335-6467 for more information about the benefits of having a top-quality meter on hand.