Especially during summertime and storm season, rain-filled days are likely to increase and moisture has the potential to greatly affect the integrity of both commercial and residential properties. And this damage doesn't only compromise the security of the building, but also the tenants/employees within.
Furthermore, the potential for mold to grow and bacteria to spread is a huge risk that restoration specialists want to prevent at all costs. So what is there to do? Fortunately, whether it's a flood or just unresolved water damage due to faulty pipes, the use of a thermo-hygrometer can save significant amounts of time in the analysis process of a damp location.
How Thermo-Hygrometers Differ from Moisture Meters
Thermo-hygrometers also serve restoration specialists by granting them the ability to accurately measure the relative humidity (RH) in the air. More specifically, they measure the "ambient humidity" in the air of a certain area.

They provide results for factors like ambient temperature, GPP and dew point. These numbers give restoration experts the ability to make better decisions to combat mold and moist areas by being able to access different types of helpful statistics courtesy of a convenient thermo-hygrometer.

Moisture meters, on the other hand, simply measure the %MC within a given building material — wood, drywall, hay, etc.
Your Best Options
In addition, thermo-hygrometers work as an excellent marker to track progress in how the water removal process is progressing in sensitive environments like warehouses. Depending on what's stored in a facility, a certain level of air moisture must be maintained to keep the condition of the facility's contents in good condition.
The HT-3000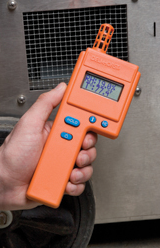 One of your top choices for a high-quality solution is Delmhorst's HT-3000 thermo-hygrometer. This meter goes beyond the traditional capability of measuring humidity. Suitable for building inspections, restoration projects, agricultural operations and flooring installations, the HT-3000 is an all-around effective device that's equally useful as it is affordable.

This meter also measures dew point and grains per pound (GPP). Dew point measures the exact point where the vapor in the air is condensed to a point where it becomes liquid water. This is considered the saturation point for the air at that particular temperature.

The HT-3000 features a solid, rugged body that will guarantee several years of reliability. You can learn more about this thermo-hygrometer features right here.
The HT-4000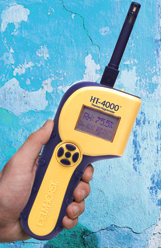 Another solid option for your restoration project includes is Delmhorst's HT-4000.

This thermo-hygrometer shares qualities and characteristics similar to the Navigator Pro 3-in-1 moisture meter. It serves as an alternative to the 3-in-1 for restoration specialists or contractors who would rather have different meters used for different types of tasks.

Like the HT-3000, this one also has the capability to measure grains per pound as well as grands per kilogram, pounds per square inch and kilopascals.

For all of your need regarding moisture meters, thermo-hygrometers and other moisture concerns, be sure to contact one of our specialists today!