A Relative Humidity (RH) meter is a device that uses in-situ probes to get an accurate reading of moisture conditions deep within a material — typically a concrete slab. These meters give contractors a complete idea of the actual moisture conditions within a slab so that they can know if the concrete is ready for use.
Why Use a Relative Humidity Meter?
Set concrete cannot be easily penetrated by a pin meter, and it wouldn't allow for measuring in the core of the slab anyway. Therefore it's often best to measure concrete with an thermo-hygrometer (RH meter). These devices comply with the global measurement 'gold' standard known as ASTM F-2170-11.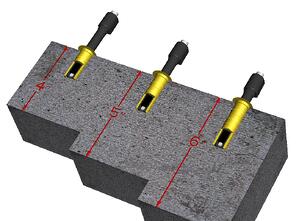 Every contractor appreciates accurate and reliable tools to ensure their projects run smoothly and are of the highest quality. To do this, you need a thermo-hygrometer that has undergone extensive product research and rigorous testing to conform to the new ASTM standards — while also being both easy to use and durable.
This ideal meter would include a unique plug-in sensor that is inserted into a sleeve designed for easy adherence to the ASTM Standard. RH meters use an in-situ probe to penetrate the surface of the concrete and get a reading from within the slab itself. This gives you the most accurate reading possible for determining the status of the concrete.
Why the need for a sleeve? The sleeve creates a small, contained cavity within the structure. Once the sleeve is in, it's capped and the new cavity is given 72 hours to acclimate. This creates a small area within the concrete that can be effectively measured.
The calibration of sensors needs to be verified at least once every 30 days to comply with the new standard. Because the sensor is not permanently attached to the sleeve, a contractor can verify the sensor between readings if a project takes over 30 days.
Using an RH meter that leaves its probes in the ground for long-term contracting work is strongly advised against. Over time, the sensor will begin to return inaccurate readings, which will make construction work more dangerous and difficult.
3 Things to Look for in Your RH Meter
Intuitive user interface. Even the most accurate, sensitive meter in the world is useless if the interface is not user-friendly.
Built-in battery checks. The last thing you want to happen is for your meter to go dead before the reading is finished.
Calibration capable. Before you measure the RH, you want to know your meter is prepared to take an accurate, reliable reading. By verifying the calibration of the sensor before and after readings, you can ensure a quality project. One-shot meters that don't allow for timely recalibration can extend your project timeline and waste valuable time and money.
Advantages of RH Meters
Quantitative & accurate measurements
Long-term average of relative humidity
Ability to measure moisture at depths of up to 40% thickness
BEST available predictor of slab behavior
Disadvantages
A non-calibrated sensor can provide wildly inaccurate results. (However, this is true of any sensor, not just RH Meters.)
Contamination of the reading site (boring) can lead to an inaccurate reading.
Overall, a well-calibrated RH meter can be a priceless tool for making sure your contracting project is completed without a hitch.
Moisture meters such as the HT-4000 thermo-hygrometer provide incredibly accurate results. Not only does the HT-4000 allow you to reuse probes, but you can calibrate them between readings so you can be confident that your work follows the ASTM standard to the letter.
If you have more questions about the advantages of using an RH meter or need advice about finding the perfect meter for your contracting job, contact us at 877-DELMHORST (335-6467).