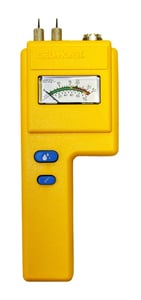 Summer weather can be both beautiful and terrifying. One day, the sun's out, the beaches are calm, and there's a light breeze that's just enough to help you cool down. The next day, you hear a constant stream of updates about tropical depressions on the radio. A few days later, the depression gets upgraded to a hurricane—one that's about to blow through your state.
People living in coastal regions such as the Florida peninsula are no strangers to the dangers of hurricane season. Every year, countless home and business owners are faced with a need to prepare for the upcoming season. Even if no major hurricanes form, lesser storms can still peel roof tiles free, overflow river banks, and cause major moisture intrusion in structures over a very wide area.
However, in addition to the sandbags, ply boards, batteries, and bottled water, there's one more thing you might want to put on your hurricane preparedness checklist: moisture meters.
How Can Moisture Meters Help You Prepare for Hurricane Season?
Moisture meters can help you prepare for hurricane season by identifying points of moisture intrusion in a structure before the hurricane hits—things such as leaks in a roof, near the foundation and base of the exterior wall, and gaps near windows.
By detecting moisture intrusion sources in a structure ahead of a hurricane, you can make appropriate repairs/reinforcements to the affected area. This helps to minimize the risk of massive moisture intrusion from the heavy rainfall and wind that are endemic to tropical storms/hurricanes.
For example, say that you detect a leak in the attic near your roof. This could be caused by a loose/damaged roof tile that need replacing. By finding that loose roof tile and replacing it, you reduce the risk of it being peeled completely off during a hurricane and letting in a massive amount of water that completely ruins the insulation in your attic.
Using Moisture Readings to Track Potential Moisture Intrusion Sources
Moisture meters can be an invaluable tool for tracking moisture intrusion sources in a structure, but how can you use them to detect where such sources of moisture are located—especially when the moisture intrusion source is invisible to the naked eye?
One trick for finding moisture intrusion sources in a building involves the use of three things:
A ductile (able to carry an electric current) metal nail;
Insulated wire; and
A pin-type moisture meter (such as the BD-10).
Start by driving one nail into a piece of the structure that you know is wet from previous testing—or, by obvious outward signs such as discoloration or mold growth. Then, tie a ductile wire with insulation to the nail and to one of the prongs on the moisture meter.
After attaching this wire, push the other contact pin into other parts of the wall where you think the leak may be coming from. If the meter gives a "wet" response, the wall is wet between the two contact points; if the meter gives a "dry" response, then the material between the pins isn't in the path of a leak.
This helps you to determine the overall size of the affected area and find the path of the moisture leak fairly quickly so you can determine its source.
If you're working with large, flat surfaces, pinless meters can also be used to quickly scan large areas for moisture intrusion sources. Simply push the scanning plate against the wall, floor, or ceiling to be tested and take a moisture reading. Then, lift it and check another section of material as needed until you have a complete picture of the moisture content of the material.
Over the course of numerous moisture readings, it should be possible to determine where the origin point of a leak is so that it can be remediated before a major hurricane hits and makes things worse.
Using Moisture Meters After a Hurricane
Moisture meters can also be useful for restoration efforts after a hurricane impacts a structure by letting you identify moisture-compromised materials throughout the structure that need to be stripped out and replaced.
Restoration experts often carry multiple specialized moisture meters and thermo-hygrometers for this very purpose. You can even use moisture meter readings to quantify the water damage that occurred to a structure for insurance purposes by proving whether or not dry-out/tear-out was necessary.
Need help picking out the perfect moisture meter so you can prepare for hurricane season? Contact the experts at Delmhorst Instrument Co. today for advice picking out the right moisture testing device for your needs.