Building inspections are a must when preparing for the transfer of ownership of any commercial or residential property. Buyers need to know that the property they're purchasing is free of any major defects that could cost them money down the line. Meanwhile, sellers need to be able to demonstrate that the property they're selling is in good condition.
To provide that peace of mind to both parties, building inspectors use a variety of tools to demonstrate the soundness of the structure. One of the most important tools being moisture meters for building inspection.
Why moisture meters? Because, moisture-related problems are a leading cause of structural problems. By using moisture meters, building inspectors can reliably document whether or not these structural problems are likely to occur—and, if they are, where the problems exist so that they can be fixed prior to the transfer of ownership.
When choosing a moisture meter for building inspection, it's important to consider the following:
Speed of measurement

Accuracy

Ease of use

Versatility (how many types of building materials can the meter test, pin/pinless reading modes, optional electrode compatibility, etc.)
With these factors in mind, here is a list of five of the best building inspection moisture meters that Delmhorst offers:
1: ProScan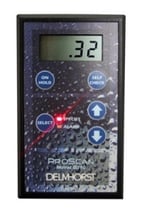 The ProScan moisture testing device is Delmhorst's premier pinless-type moisture meter. For testing flat-surfaced building materials, this meter is one of the fastest options on the market—simply push the meter's scanning plate flat against the surface and push the button.
Also, as a non-destructive pinless moisture meter, the ProScan allows users to take readings without leaving any markings on the materials being tested—making it perfect for checking hardwood flooring. In fact, the ProScan can accurately measure moisture content (%MC) in wood over a range of 5%-30% MC.
While calibrated for wood, the ProScan also has a reference scale mode that allows it to provide qualitative moisture indications in other building materials. A built-in calibration check allows for fast verification of meter accuracy on the job.
Overall, the ProScan is a fast, simple, and accurate moisture meter for building inspection.
2: TotalCheck 3-in-1

The TotalCheck 3-in-1 meter is the perfect tool for the building inspector who needs a complete suite of moisture testing tools in a single, easy-to-carry device.
This device combines a pin-type meter, a pinless moisture meter, and a thermo-hygrometer into a single tool. In the pin mode, the meter can detect moisture in wood over a range of 5% to 60% MC, with species corrections for over 69 different species of wood.
The pinless meter mode uses a reference scale to quickly provide a qualitative measurement of moisture in various building materials quickly and easily. The thermo-hygrometer function allows building inspectors to measure the relative humidity (RH) content of a room—a function that can be invaluable for identifying rooms in a structure that may have a moisture intrusion source by checking for comparatively high humidity.
Like all of Delmhorst's pin-type meters, the TotalCheck 3-in-1 has a universal probe socket that accepts any Delmhorst electrode—making the device even more versatile.
3: TechCheck PLUS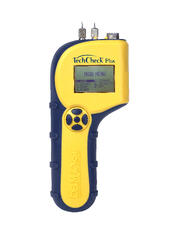 For those who want the versatility of both pin and pinless moisture measurement but don't need a built-in thermo-hygrometer, the TechCheck PLUS 2-in-1 moisture meter is the perfect balance between versatility and ease of use.
The pin mode features built-in scales for measuring moisture in both wood and drywall. Being able to measure moisture in drywall also means that this meter is useful for testing moisture in gyp-crete floorings in addition to wood floors.
The pinless mode uses a 0-300 reference scale for getting a quick indication of moisture in most building materials. With this, it's possible to rapidly check large areas for moisture and then collect more detailed, quantitative information using the pin mode.
Using optional electrodes can help to increase the TechCheck's versatility even further by providing access to larger or uniquely-shaped pins that can check for moisture in areas that would be hard to reach otherwise.
4: BD-2100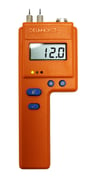 The BD-2100 is one of Delmhorst's most popular moisture testing devices, and for good reason.
With its bright, clear digital display, three reading scales (reference, drywall/gypsum, and wood), and ability to average up to 100 accumulated readings (which helps users spot abnormal readings), the BD-2100 is a versatile and highly-functional device.
Professionals all over the world use the BD-2100 as their go-to method for checking moisture content in all kinds of properties prior to a sale. Lightweight (10 ounces) but durable, this is one pin-type meter that can go with you wherever you go!
5: J-Lite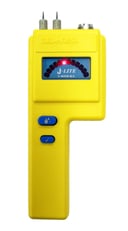 For users who need a reliable indication of moisture without any fancy bells or whistles, the J-Lite is a simple tool for measuring moisture in a structure. With a series of 12 bright LEDs, the J-Lite provides moisture indication over the range of 6% to 30% in wood, and can provide a qualitative assessment of %MC in various other building materials as well.
Built with the same rugged construction as all of Delmhorst's other moisture meter products, the J-Lite is a great option for the building inspector who needs a tough, reliable tool that will last.
Plus, with the built-in universal probe socket, the J-Lite is compatible with Delmhorst's specialized electrodes, making it an ideal tool for testing moisture.
These are just five of the best moisture meters for building inspection available from Delmhorst. Need to know more about using moisture meters? Check out our free Moisture Meters 101 guide at the link below!