Moisture meters can be invaluable tools for professionals in a wide range of industries. However, not just any moisture meter will do. Professionals need the right tools to meet the demands of their particular line of work.
Some professionals may need a moisture meter with a wide variety of reading scales and modes to test many different materials. Others may need a moisture meter that can quickly get accurate readings in just one kind of material. Many professionals who manage a business might need user-friendly devices that they can give to new employees who may not be familiar with how to use moisture meters.
Basically, different industries (and professionals) have different needs—meaning that no one moisture meter will be enough to meet the needs of all of your customers. With this in mind, what are some of the top meters that moisture detection tool distributors should keep in stock to meet the broad variety of needs of their customers?
1: TechCheck PLUS

Delmhorst's TechCheck PLUS 2-in-1 moisture meter combines the functions of both a pin and pinless moisture meter with three distinct reading scales: a wood scale, a drywall scale, and a reference scale. The combination of two reading modes and three reading scales make the TechCheck PLUS an invaluable tool for restoration contractors, building inspectors, and anyone else who has to check for moisture in a variety of building materials.
Because the TechCheck PLUS is such a versatile moisture detection tool, it can serve a wide variety of customers—making it a great choice for moisture meter distributors who serve a general market. Additionally, it comes packed with features that are great for building inspection and water damage restoration work, including:
Multiple Moisture Measurement Scales.

The ability to get accurate moisture content (%MC) measurements in both wood and drywall is invaluable for any specialist who needs to track moisture in buildings. Also, the qualitative readings from the reference scale can provide quick general indications of moisture in other building materials.

Pin and Pinless Reading Modes.

The pinless meter mode is fast, allowing users to check a large area in short order. Meanwhile, the pin mode provides accurate measurements to specific depths.

Backlit Screen.

The screen is backlit to make it easy to read—even in dark areas of a construction site, office building, or home.

Adjustable Alarm.

Alerts you when a pre-set %MC value has been reached or exceeded.
Best of all, this meter was designed with rugged work conditions in mind—helping to ensure years of reliable use.
2: KS-D1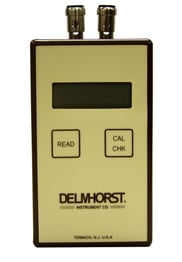 If you have any customers who are agricultural specialists, they will always have to worry about one thing, no matter what kind of crop they grow: the available moisture in their soil. That's why soil moisture meters such as the KS-D1 are an auto-include for any moisture testing tool distributor who serves the farming industry.
The KS-D1, when combined with a set of gypsum sensor blocks, can be used to monitor the amount of moisture in the soil that's available to be absorbed by plants. This makes the KS-D1 a priceless tool for farmers who want to optimize their irrigation schedules to avoid over- or under-watering their crops.
In time, the excess soil erosion and crop loss that can be prevented by the KS-D1 will pay for this soil moisture meter many times over.
3: The BD-10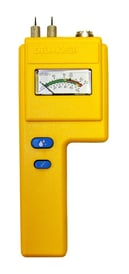 While complex moisture meters with a lot of different features can be incredibly versatile and useful tools, some users prefer a simpler device. Yet, even "simple" devices need to be durable and reliable. This is where moisture meters like the BD-10 excel.
This simple, easy-to-use pin-type moisture meter has two reading scales—wood and reference—that can be used with ease. As an analog meter, the BD-10's interface is simple enough for beginners to read without much need for training. Yet, it is also a precise device capable of accurately measuring moisture in wood over the range of 6% MC to 40% MC. This makes the BD-10 highly suitable for most wood-industry applications, such as wood flooring installation, furniture manufacturing, and lumber production.
A built-in calibration check also makes it easy to verify the BD-10's accuracy on the jobsite in mere seconds with the push of a button. This way, even new users can always check whether their meters are accurate.
Like all pin-type Delmhorst meters, the BD-10 has a universal probe socket at the top that will work with any of Delmhorst's optional electrodes—helping to make the BD-10 more versatile than one might think when combined with the meter's reference scale mode.
Whether your customers need a versatile and adaptable meter with a broad range of functions, a specialized device for one specific task that is vital to their industry, or a simple moisture meter that's user-friendly, these are some of the best moisture meters that you could stock for sale today!
However, there are many other applications where your customers may need a different device aside from the ones listed above. If you need help picking which moisture meters to stock for your customers, contact Delmhorst Instrument Co. today! We have decades of experience in helping moisture meter distributors meet the moisture measurement needs of their customers, so let us help!
For more information about moisture meters, please check out our free guide at the link below.