Moisture is a constant concern for contractors in all kinds of jobs. Whether they're installing concrete, wooden flooring, or other building materials, there's a near-constant need for them to use specialized equipment to detect and measure moisture. This is where moisture meter distributors are important.
By stocking the right moisture meter products, distributors can keep their contractor customers happy and coming back for more. But, which moisture meters should you stock for such customers?
Before we answer that question, what kind of contractors are you doing business with? Are you working with general contractors, or with specialist contractors who have a narrow focus on one kind of task?
General contractors will need a broad set of capabilities from their moisture testing devices to verify site conditions, make sure many different kinds of building materials are free of excess moisture, and document processes to show their customers.
Specialist contractors may need different capabilities depending on their specific area of concern. For example, a flooring installation contractor might need to verify the RH of the installation site as well as the moisture content (%MC) of wood flooring or other flooring materials.
For contractors working in the building construction and remodeling industries, some of the best moisture meters for such work include:
1: The ProScan Pinless Moisture Meter
This pinless moisture testing device is easy to use thanks to its simple interface and large, clear digital display. Built-in species corrections for wood also make the ProScan a versatile device for checking the moisture content of wood.
The integrated hold function allows users to take readings in hard-to-reach places—helping contractors get readings in those small nooks and crannies where it would be hard to look at the screen while taking the moisture measurement.
2: The TotalCheck 3-in-1 Meter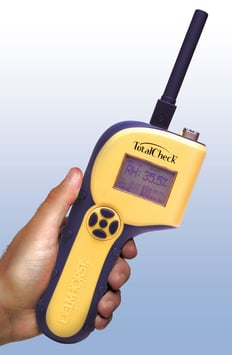 The perfect high-end moisture testing device for contractors who want to save some space on their tool belt. Delmhorst's TotalCheck 3-in-1 combines both pinless and pin-type moisture meters with a built-in thermo-hygrometer to provide a complete suite of moisture testing tools in one device.
This moisture meter has settings for testing using wood, drywall, and reference scales using the pins. Using the thermo-hygrometer allows users to quickly determine the relative humidity (RH) of a given area—and it's also compliant with the ASTM F-2170 standard for testing concrete when used with in-situ probes. Meanwhile, the pinless scanning mode is great for quickly testing large areas.
With the ability to store up to 1,400 readings with date and time stamps, the TotalCheck is a general contractor's best friend when it comes to documenting moisture measurements for future reference.
3: BD-2100
A versatile pin-type moisture meter used for wood, drywall, and other building materials, the BD-2100 is one of Delmhorst's top-selling moisture meters for a reason. The meter is built for accuracy, and can detect moisture in wood over a range of 6% to 40% MC, while the gypsum scale for drywall is accurate to moisture content ranges of 0.2% to 50% MC. A reference scale setting allows users to get quick, qualitative indications of moisture in most other building materials.
Plus, the meter has a universal probe adaptor that allows contractors to pair the BD-2100 with any specialized Delmhorst electrode—increasing the versatility of the 2100 even further.
With a built-in calibration check to verify the meter's accuracy, contractors can use this device with confidence.
Stocking More Than Just Moisture Meters
Odds are that, sooner or later, your general contractor customers are going to need to check the relative humidity conditions on a jobsite. For this task, they'll need a different type of device from a moisture meter—they'll need a thermo-hygrometer, also known as an RH meter.
Delmhorst offers a variety of thermo-hygrometers for general contractors, from the dedicated HT-4000 Thermo-Hygrometer to combination moisture testing devices like the TotalCheck meter mentioned earlier.
While not moisture meter per se, thermo-hygrometers are a vital part of any general contractor's kit for their role in checking humidity conditions on the jobsite… not to mention the fact that they're required for following ASTM F-2170 concrete moisture testing protocols. Also, because in-situ probes and special testing sleeves are a part of the ASTM F-2170 standard, it creates an opportunity for you to upsell more equipment to your customers.
Aside from thermo-hygrometers, it can be useful to stock a variety of optional moisture probe attachments that are compatible with the moisture meters you stock. Delmhorst makes this easy by using a universal probe socket design—any Delmhorst moisture meter with a universal probe socket is compatible with any Delmhorst probe!
This helps make the moisture meters you stock more versatile—and thus more useful to your customers—which, in turn, helps you upsell them and keep them coming back for more.
Interested in becoming an authorized Delmhorst distributor? Fill out the form on our Distributor Relations Program page to get started!