As any experienced woodworker knows, accurately detecting moisture in wood is a huge part of ensuring a successful, problem-free wood product. By using a moisture meter for woodworking, professionals can ensure that they have consistent results.
The question is, how does a professional find the right moisture tester for their woodworking job? With all of the different types of wood moisture meters available, where should someone in the market for a moisture meter begin their search?
To help resolve this dilemma, we've assembled a list of five of our best moisture meters for woodworking-related uses:
Woodworking Moisture Meter #1: The ProScan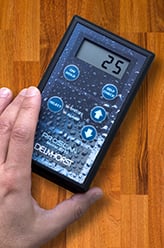 This highly useful meter is a great tool for manufacturers, flooring installers, inspectors, and lumber suppliers to quickly and easily scan the %MC (Moisture Content) in their wood products.
This pinless moisture meter uses a radio frequency to scan a piece of wood without having to penetrate the surface, which is ideal for when you want to scan a finished product without leaving holes in it.
Other benefits of the Delmhorst ProScan include:
A compact design makes this pinless meter lightweight and easy to handle.
A clear, easy to read digital display.
Built-in battery and calibration checks minimize risk of erroneous readings and power loss mid-job.
Customizable alert settings that allow you to choose the moisture level to be reached before triggering an alarm.
Built-in species corrections for wood species with specific gravities ranging between .30 and .80 SG.
Professional woodworkers use this meter to quickly identify where a pocket of moisture is in their wood materials, allowing them to address the issue of excess moisture before it can compromise their work.
Woodworking Moisture Meter #2: The RDM-3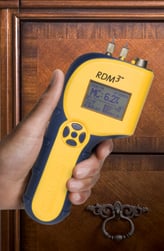 The RDM-3 is a pin-type moisture meter that boasts a large variety of features, and is ideal for anyone who needs to collect and analyze statistical data. Not only does this meter have a clear, easy to read digital display, it can store up to 1,400 readings with a date and time stamp for documentation. You can display these stored readings on the screen, or download them to your computer in Excel to create thorough documentation of your work
This meter also helps give you accurate readings by correcting for 69 different species of wood and for the wood's temperature. The built-in pins at the top of the RDM-3 can penetrate wood up to 5/16" deep, or you can use the built-in connector to use any Delmhorst electrode. By switching out different specialized electrodes, the RDM-3 becomes an incredibly versatile tool for measuring %MC in all phases of wood and lumber production.
Adding to the reliability of this meter is its ruggedness. This meter was designed to last users for years and can operate reliably in temperatures anywhere between -4° and 158°F (-20° to 70°C). The unit also has an automatic shut-off to preserve battery life.
With this meter, you have a choice of several packages, such the meter with carrying case and replacement pins, the package that comes with the 26-ES hammer-type electrode and extra #496 pins, or the complete package with the PC/KIT software package.
Woodworking Moisture Meter #3: The J-2000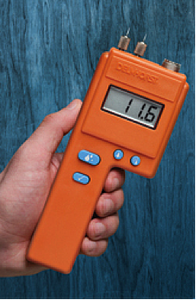 One of Delmhorst's best-selling moisture meters, the J-2000 is a reliable, easy to use tool that helps furniture manufacturers, woodworkers and craftsmen ensure that every last one of their products/projects meet their high standards and avoid the complications caused by excess moisture.
This pin-type moisture meter, much like the RDM-3, is extremely versatile, boasting a variety of features including:
A built-in calibration check.
A moisture range of 6% to 40% on wood (the optional J-2000/X/PKG goes from 6% to 60%).
Integrated contact pins with penetration up to 5/16" in wood.
A connector that accepts all Delmhorst electrodes. The most popular model to pair with this meter is the 26-ES ram-type electrode.
Corrections for 48 different species of wood and for the wood temperature.
Averages up to 100 accumulated readings.
A clear, easy to read digital display.
For flooring contractors and other woodworkers, the J-2000 is a moisture meter that provides excellent versatility and value.
Woodworking Moisture Meter #4: The J-4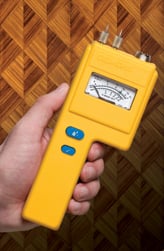 Sometimes, the simplest tools are the best ones for the job, and the J-4 Moisture Meter from Delmhorst makes taking moisture readings incredibly simple. This lightweight tool is the go-to meter for professionals who need the accuracy of a pin-type moisture meter without all the bells and whistles.
This meter gives readings on a clear, easy to read analog display for maximum accuracy. The moisture range of this moisture meter is 6% to 30% for wood—more than enough to alert you to the presence of excess moisture in any wood that you're testing.
The pins on the top of the meter can penetrate wood up to one inch thick, or you can attach any Delmhorst electrode to the built-in connector to get deeper readings.
Compact, lightweight and simply reliable, the J-4 is the perfect meter for a contractor on a budget, or one who just prefers analog displays over digital ones.
Woodworking Moisture Meter #5: The J-Lite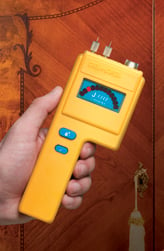 The J-Lite moisture meter from Delmhorst is the perfect tool for beginners and experienced woodworkers alike. This useful pin-type meter features a highly unique LED light-up display that can be read clearly and easily whether you're working in a dark room or out in the hot, bright sunshine.
Other features of the J-Lite include:
A moisture range of 6%-30%.
A built-in calibration check.
A lightweight, compact design.
Pins that can provide 5/16" penetration.
A connector that accepts any Delmhorst electrode.
A 3-year warranty.
This compact woodworker's little helper is a cinch to use, making it an ideal moisture meter for woodworkers of all experience levels.
Why Delmhorst is Always the Right Choice
A Delmhorst wood moisture meter is always the right choice for woodworking applications. Our company has been manufacturing moisture meters in America for decades, ever since our founder pioneered the use of ram-type electrodes as a way to locate leaks in apartment buildings back in the 1940's.
Since then, we've worked to keep revolutionizing the industry we helped to create with modern, rugged, and highly-functional wood moisture meters.
Our meters are made right here in America, and our product support is second to none in the industry. So contact us today online or by phone at 1 (877) 335-6467. Our technicians have the knowledge and experience to help you choose the right moisture meter for your next woodworking job.