Depending on region and local laws, home inspectors have different requirements for their job duties. No matter the case, however, making use of a moisture meter can serve the homeowner and prospective home buyers with significant benefits. Below, we highlight the main reasons why home inspectors should take advantage of this technology and offer moisture inspection services — even if it's not mandatory.
Hidden Moisture is Bad for Residents' Health
When moisture is accumulated within walls, under floors and in other hidden places, it's not as much the water that becomes hazardous, but the mold that grows as a result of the moisture.
Mold is a common allergen that can cause respiratory problems and constant headaches. In addition, the presence of mold in a home has been shown to correlate with the development of asthma. Asthma, while it varies in severity, can be life-threatening in serious cases or when not properly treated.


Additionally, some building materials emit chemicals as they deteriorate. So, as moisture breaks down those materials inside the walls or ceiling, it may expose the inhabitants to potentially toxic materials. Moisture meter readings make residents aware of the mold risks, hidden mold accumulation or material breakdowns behind the scenes.
Excess Moisture Threatens Structural Integrity
Beyond the personal conditions that excess moisture can affect, the physical safety of the property can also be at risk. Other types of fungi may grow, bringing inspect populations to infest damp areas throughout the structure.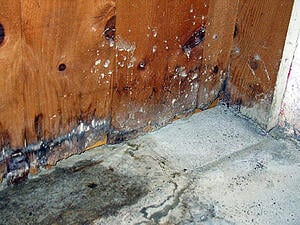 Moisture in the wrong places can lead to a rusted sheet metal, screws and other metallic components. This rusting can easily shorten the life of the building materials and rot wood to the point where it becomes too weak to comfortably live inside.
By detecting moisture problem areas early, homeowners or property managers can save big on future expensive repairs and replacements if the moisture is left unattended.
Detect Now & Save BIG Later
When moisture readings display something unusual, this defect can actually serve as a good sign — for the long term. The sooner a property owners learns about a moisture issue, the more likely that they'll be able to save time, effort and expenses in remediating the issue.
Finding out that a pipe is leaking behind the wall or moisture is collecting around an improperly sealed window allows a homeowner to fix the problem at the source before damage spreads.
Even if significant moisture has already collected, it's entirely possible that the problem can be resolved with drying equipment and monitoring rather than the most intrusive tear-down and replacement.
And, of course, if the inspection is for a prospective home buyer, they will be in a better position to make an informed decision if they understand what kind of repair work may be necessary in advance.
Whatever the local norms or legal requirements, no homeowner wants to be surprised by mold, rust, material breakdowns or any of the other risks associated with undetected moisture. A quality home inspection moisture meter makes it relatively quick and easy to protect homeowners and buyers from such unpleasant and often unhealthy surprises.
For more information on how to find the best moisture meter for your home inspection needs, feel free to contact one of our representatives today!