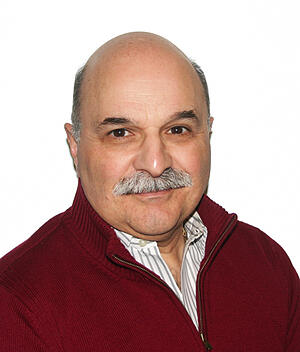 Hello Delmhorst blog readers! Tom Laurenzi here and I wanted to take some time to talk to you all directly. As you may have already noticed, the Delmhorst website has been completely redesigned.
For years, we have used our website to deliver content such as species correction tables, tutorials, and product videos/manuals to you. But, we took a look at the website a while ago and thought to ourselves, "There has to be a way we can improve this for people."
We wanted to make sure that you could get to the resources you needed, when you needed them, and we felt that the old website design and navigation were getting in the way of that goal. So, we took some time to rebuild our website to make it faster, easier, and more useful to you.
"What's different?" you ask. We've made a number of improvements to the site for both the customers who use our moisture meters and the distributors who stock Delmhorst products.
Changes for Moisture Meter Users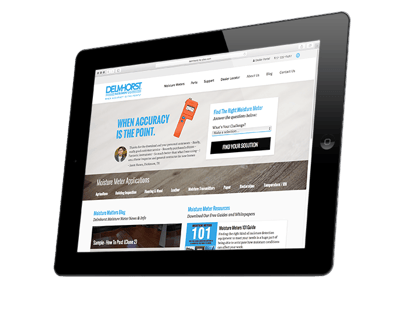 At Delmhorst, we know that there are a lot of issues that can crop up when you're using a moisture meter. From needing to adjust a reading to account for the wood species you're testing, to finding out how to measure moisture in different building materials, or measuring the moisture in hay, there are a lot of things that someone might need help with.
Whether you're a do-it-yourself enthusiast or a professional, Delmhorst's new website was rebuilt from the ground up to help you get the resources you need to tackle tough moisture testing challenges.
These features include:
Improved Page Navigation. We've reworked the location of important resources so that you can find them easier.
Redesigned Page Content. Whether you're looking up moisture meters or parts and accessories such as electrodes and cases, our new site makes finding what you want easier. Specific moisture meters now have their picture and a short description on the moisture meter products page, making them easier to identify.
Product Manuals. Misplaced the manual for your moisture meter? We've got you covered with a full library of owner's manuals for the moisture meters, thermo-hygrometers, and software programs that come from Delmhorst.
More Educational Resources. Not finding what you need in a product manual? Don't worry, because Delmhorst's new site still has all of the educational content from before, just in a new and improved format. You can find answers to many different questions and challenges on our FAQs page, as well as in our weekly blog posts.
Redesigned Dealer Locator. When you're looking for a high-quality moisture meter that works, you can find a Delmhorst-approved distributor quickly and easily through our redesigned Dealer Locator page. Just type in your location and the locator will give you a list of the nearest Delmhorst moisture meter resellers.
Improved Correction Tables. Need to make a species or temperature correction? Delmhorst has you covered with convenient, easy-to-read correction tables that guide your adjustments for accurate meter readings quickly while on the job.
Every feature was either introduced or reworked with the goal of making owning a Delmhorst meter a more convenient and fulfilling experience for the user.
Changes for Delmhorst Distributors
For those of you who distribute Delmhorst meters, we haven't forgotten about you. Not only does the revamped site navigation help you find the resources you need faster, but we've put in a couple of new features just for you.
One of these new features is a special Dealer Portal jam-packed with special resources just for Delmhorst distributors.
In the Dealer Portal, you'll find not only information and resources such as price lists and spare parts lists, but also high resolution images and product copy to help promote your Delmhorst products to customers.
With the educational and other support resources available in the Dealer Portal, you can also provide customers with top-notch support to help them with their questions. And, as always, Delmhorst's dedicated support staff is here to back you up and provide top-tier customer support to your customers as well.
Everybody here at Delmhorst is excited to launch this new and improved website, and we look forward to helping you with all of your moisture meter needs!
Thank you for being a part of the Delmhorst family!
Sincerely,
Tom Laurenzi
President
Delmhorst Instrument Co.
51 Indian Lane East
Towaco, NJ 07082
V: 877-DELMHORST (335-6467) ext. 224 F: 973-334-2657
E: tlaurenzi@delmhorst.com