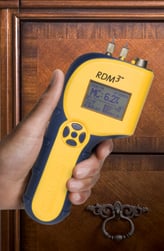 Professional woodworkers know that controlling the moisture content of their products is indispensable to their business' success. With a reliable moisture meter, woodworkers can ensure that their products will be ready for whatever environment they'll ultimately be used in.
Why are moisture meters so integral to the process of preparing wood products for shipping to different areas of the world? The answer is one that any experienced woodworker is familiar with: because wood needs to be acclimated to the conditions in which it will be used, and that process needs to be verified with more than just a visual inspection.
Wood is a hygroscopic material, meaning that it absorbs and sheds moisture depending on the ambient conditions it is exposed to. Before wood can be used for furniture, flooring, or construction purposes, it needs to be acclimated for a minimum of three to seven days in an environment with a fully-functioning HVAC system. By properly acclimatizing wood prior to actually turning it into a product, woodworkers minimize their risk of defects occurring in their products after they ship them out.
Enter Moisture Meters
However, even when wood has been given sufficient time to acclimate in a temperature and moisture-controlled environment, that doesn't necessarily mean that it's ready to go just yet. The acclimation process needs to be verified using an accurate moisture meter that provides a reading in the moisture content range that the product needs to be acclimated to.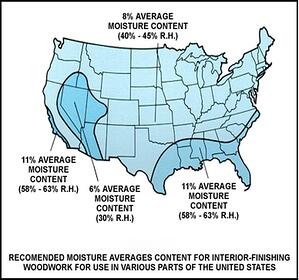 For the vast majority of the USA, the appropriate moisture content that wood furniture will need to be is somewhere between six to eight percent. In order to make sure that the moisture content of your product is in the right zone, you need a moisture meter that can actually provide an accurate reading of low moisture levels in wood.
For many low-end moisture meters found in the retail stores, 6% MC is outside the accurate measurement range. Specialized woodworking moisture meters need to be able to read moisture content as low as six percent.
The ability to read moisture content accurately down to the lowest percentage recommended for any area of the country is a must for the moisture meters you want to use when you plan to ship your furniture to different regions; whether you're shipping to the arid Arizona desert, the humid Florida peninsula, or to colder climes such as Maine or Alaska.
Without the ability to read your product's moisture content down to the recommended levels, it is much harder to be certain that your furniture or other woodwork are properly acclimated to the region you're sending them to. Because of this, not just any cheaply-made little meter found at the hardware store will do.
How to Find the Best Moisture Meter for the Job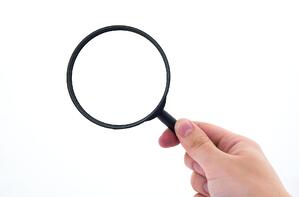 One feature that moisture meters for woodworkers should have is a built-in calibration check. With this incredibly useful feature, a moisture meter's user is able to verify that the meter is reading accurately. Beyond the calibration check, you should see if the moisture meters that you use are manufactured and tested to incredibly high standards, such as the testing which can be traced through the National Institute of Standards and Technology (NIST).
Another feature that top-of-the-line meters boast is special correction settings for different species of wood. For example, our J-2000 meter can correct for 48 different species of wood as well as for the temperature of that wood. Simply key in the species of wood you are measuring, and the J-2000 can take care of the rest. This not only ensures greater reading accuracy, but it is very convenient compared to having to manually calculate your adjustments for readings because of variances caused by wood species and temperature.
Above all, you should look for a moisture meter manufacturer that guarantees their workmanship, and has a history of reliability and top-notch service. Once you've found a good manufacturer, one with industry-leading service and quality, you'll want to browse their woodworking moisture meters to see what the features of each of their products are and see if they match your performance requirements. For example ask yourself:
Do these meters come with extra pins?
Can you enhance their functionality with extra probes?
Will each meter be easy to use in the conditions you work in, whether you're in a brightly lit room or a dark one?
Ask yourself these questions before coming to a decision and you'll be able to find the perfect meter for your specific situation and needs.
Using a moisture meter that doesn't measure up to your needs can mean sending out products that aren't actually ready for use, leading to swelling, shrinking, or delamination of the wood, which causes the product to fail. Make sure your woodwork meets your exacting standards by using top-quality woodworking moisture meters.