From soil moisture meters that can help optimize irrigation efforts, to grain moisture meters that help establish the dry matter weight of product, to hay moisture meters that help determine if hay is ready for baling, the varieties of agricultural moisture meters are numerous. However, this multitude of moisture meters for agriculture can make finding the right one for your own needs difficult.
With so many options to pick from, how can you be sure that you've found the right tool for the job? To help you find the perfect tool for your own agricultural needs, here are a few things to consider when purchasing an agricultural moisture meter: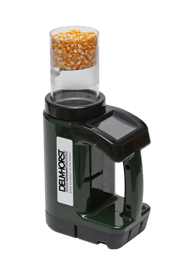 The Specific Application
The first step in narrowing down your list of choices is to, of course, consider what you're going to be using the moisture meter for. If you're looking for a way to test hay to verify it's safe to bale, then a hay moisture meter is an obvious choice. If you want to save on irrigating your crops, then a soil moisture meter is a better tool.
Some moisture meters, such as grain moisture meters, can be used with a variety of crops. In fact, the D999-FR moisture meter can be used with over 250 different types of grain by switching between different built-in settings.
Features of the Moisture Meter
Naturally, when picking an agricultural moisture meter, it's important to consider the specific features you need the meter to have. Certain features, like the grain corrections of the D999-FR, can make certain tasks easier or make the meter more flexible for use in different crops.
For example, if you're looking for a moisture meter to test hay, it's important to make sure that the moisture meter you select has compatibility with different kinds of probes and prods for testing hay both in the windrow and in the bale. The 831 short pin prod gets good results in loose hay because of its multiple points, while the 1235 prod has the length needed to get deep inside of a densely packed bale to get a reading from the center. Delmhorst's FX-2000 moisture meter has a universal probe socket that makes it compatible with both of these probes—and all of Delmhorst's other probe options as well.
Generally speaking, when inspecting moisture meters for agriculture, it's a good idea to check the list of features to see if the meter offers anything that can make it more convenient to use.
The Warranty
While reading the text of a warranty can take a lot of time, it can also be an indication of the kind of service and support you can expect from the moisture meter manufacturer after the sale.
As you read the warranty, ask yourself the following:
Is the warranty plainly worded?
How long is the warranty period?
What exceptions are there to the warranty?
What's the process for making a warranty claim?
Answering these questions is important for a number of reasons. First, it helps you determine how "usable" the warranty may be. A complicated warranty with a lot of exceptions, legal double-talk, and a convoluted claim process is a warranty that will be difficult to use.
Another reason why the warranty is important is that it can be a reflection of the manufacturer's confidence in their product. Long warranty periods with easy, clear-cut claim processes often indicate a manufacturer who knows their products are high-quality and will last you a while—short warranties may indicate the opposite.
The Manufacturer's Reputation
One major consideration to make is the overall reputation of the manufacturer of the moisture meter. In many cases, it is often better to spend a little extra on a reliable, high-quality tool from a trusted manufacturer than it is to buy a cheaper one from a company with poor quality control.
When shopping for an agricultural moisture meter, be sure to ask around and see what moisture meters other farmers are using—and what their user experience has been like so far. What problems did they have? What did they like? How long have they been using their moisture meter for their particular crop?
Getting an idea of a manufacturer's reputation is a good start when you're preparing to buy a moisture meter because it can help you avoid buying a shoddily-made, unreliable tool.
Need to find a high-quality moisture meter for agriculture from a well-known, trusted manufacturer from right here in the USA? Use the Delmhorst Dealer Locator to find a trusty source of high-quality moisture meters near you!
Or, check out our More Than a Manufacturer guide to learn more about Delmhorst right now!