Is it time to update and improve the precision and ease of your moisture readings? Delmhorst Instrument Co.'s newest moisture meters offer quick readings, comfortable designs, and a wide range of programmable features. This exciting new family of meters is the product of an engineered program plan and a careful human factors review. In a previous article, we provided a high-level overview of some of the most innovative features; here we'll explore the advantages and capabilities of the new Navigator™ family of moisture meters in greater detail.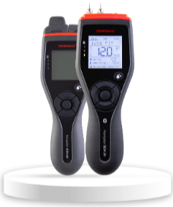 Navigator™ BDX-30 and BDX-20 features

A powerhouse of moisture detection technology, the BDX-30 includes Bluetooth® capabilities with the EDGE™ app to save, organize, and customize data collection.
Be ready to receive accurate moisture readings on a variety of materials. Whether you're preparing to install wood flooring, inspect drywall, or restore a home from water damage, the BDX-30 and BDX-20 pin meters offer key capabilities to lead the industry.
Both meters offer the following competitive features for your commercial, industrial, or personal use:
• On-screen statistics
• Color-coded LED's
• Programmed species
• User-adjustable alarm set points


On-Screen Statistics

Walk around the room on a restoration project and quickly assess the moisture levels of the walls, floor, and ceiling. Select the stats feature and see the average high, low, and standard deviation of your moisture readings. Make informed decisions on where to place dehumidifiers and fans to continually monitor drying progress.

Color-Coded LED's

Color-coded LEDs visually alert you to the moisture level of the material you are testing. The green light indicates a sufficiently dry level, the yellow light means caution and the red light means the material is wet. The BDX-30 allows users to customize the alert levels using the EDGE™ app.
Programmed Species

Enter the wood species or material you're testing for accurate readings and convenient data collection. The BDX-20 comes with three built-in scales, including wood, drywall, and the reference scale. An included correction chart or Delmhorst's website species look-up (https://www.delmhorst.com/correction-tables#species) provides additional correction information.

The BDX-30 comes with 15 programmed species. You can select from among 37 species and materials through the EDGE™ app.



User-Adjustable Alarm Set Points

Looking to quickly identify a particular moisture level? Program alarm set points to receive audio alerts at the pre-selected moisture levels. This feature allows you to work quickly, gathering information and reducing errors associated with differences in acceptable moisture levels.


Bluetooth® Capability

The BDX-30 comes with Bluetooth® capability giving you access to the EDGE™ app. Connect your moisture meter or meters with your smartphone or tablet to access a whole host of additional features:

Saved meter readings with geotag and time stamp
Exported data
Graphical capability
Customizable LED ranges
International species sets
Multi-language readings
Advantages of the New Navigator™ Family of Moisture Meters

We proudly design and assemble these quality meters in Towaco, New Jersey to offer you the following advantages as you test materials on any job site or project:
Ergonomic Comfort
The patent-pending case design provides a comfortable handle and firm keys which makes our meters easy to hold and use for long periods at a time. As a pin meter, this gives you a more comfortable experience as you push it into the material. You don't have to settle for unresponsive keys or uncomfortable ergonomics.
User-Friendly Interface
The Navigator™ family of meters includes a large, custom back-lit display for convenience. While the BDX-30 can be customized with app connectivity, both products are ready for use right out of the box. There isn't a major learning curve for these moisture meters, so they're both great options for any task.
Convenient Reference Scale
The 1-100 reference scale is used to establish a benchmark or "dry standard" for the material you are measuring. First, take readings in areas that you know are dry and then take readings in areas you know are wet. These "dry to wet" readings should be used as reference points against subsequent readings making it easier for you to know which areas need the most attention first.
Wood Temperature Correction
Anyone working in the lumber and wood processing or water damage restoration industries knows the importance of wood temperature correction when testing wood. Besides the moisture content, the temperature of the wood affects the accuracy of your meter readings. The Navigator™ family uses built-in temperature correction for a more accurate reading in wood and structural drying.



Learn More About Navigator™ Moisture Meters
These features and advantages make this new family of meters a competitive option for professionals in a number of industries. Speak to a specialist today to learn more about ordering a meter or about the industry-specific benefits of a meter from Delmhorst Instrument Co.