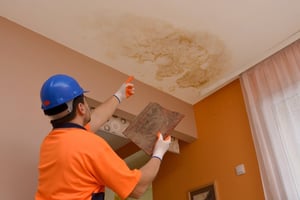 Did you know moisture intrusion is the single most important factor impacting the integrity of any structure? As such, it's crucial that a building inspector has the proper tools for a thorough moisture analysis and that potential home buyers/building tenants get reliable information about moisture issues before making a final decision about their purchase.
The Importance of Moisture Measurements
Moisture measurements provide the data necessary to assess a host of concerns about the structure. These include the likelihood of problems with mold and fungi or when materials are ripe for pest infestation or may already be infested. Generally, while fungi require about 20% moisture to grow and thrive in wood, 17-20% is considered borderline. Some insect infestations can occur at moisture levels as low as 12-13%, especially in humid conditions.
Moisture meters make a home inspector's job easier and allow for more accurate, detailed information about the presence of moisture, its content, and its exact location. The quality of that information drives an inspector's professional reputation. High quality, trustworthy readings also protect a contractor or home inspector from liabilities that could otherwise occur from inaccurate moisture level readings.
Finding the Best Moisture Meter
Of course, not all moisture meters are equal — and, not every moisture meter is suitable for every task. Not only is it important to identify the best moisture meter for inspections, but it also to understand that an inspector may have occasion to use more than one meter. For example, a contractor may choose to use a pinless moisture meter for initial scanning, since the meter is non-intrusive and easy to use. This makes a pinless meter a great tool for quickly identifying areas of concern.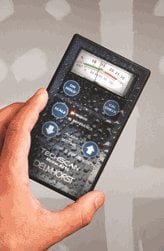 Versatile and non-destructive, the Delmhorst pinless TechScan meter combines innovative features with easy operation. Home inspectors can quickly cover large areas and locate high moisture spots with TechScan's advanced RF technology and user-adjustable alarm.
However, meters with pins — especially those with insulated contact pins — can identify the location and degree of moisture with greater accuracy. A pin-type meter, such as the BD-2100 with insulated contact pins registers moisture only at the tips, allowing inspectors to determine the precise location and depth of the pocket of moisture. Therefore, once an inspector has picked up on the presence of moisture with the pinless meter, the pin-type meter will allow him to zero in on the problem.
Given the challenging conditions of building inspection, installation and drying jobs, it pays to have an easy-to-use moisture meter that you can depend on. Delmhorst's easy-to-use 2-in-1 TechCheck PLUS was designed with simplicity in mind and helps to make even the most demanding job simple.
Get help determining which Moisture Meter is best for your Home Inspection and Pest Control.
Delmhorst's ProScan pinless meter is another highly-recommended device to measure moisture content — especially for lumber. The ProScan has a digital display that shows built-in species corrections for different kinds of wood. Since different species of wood have varying specific gravities, this technology makes it possible to get the most accurate readings. This capability makes it ideal for any professional who often deals with wood structures.
Moisture Danger Zones
Though it's important to conduct a thorough inspection of the property, the most common areas for moisture intrusion are around doors, windows and flashing. Often, moisture is able to intrude into walls due to faulty installation and improper sealing.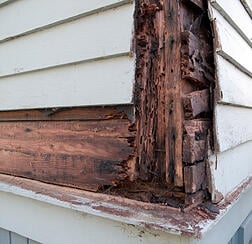 Moisture can also collect due to slow leaks in piping; these problems typically occur under sinks, behind dishwashers and refrigerators, and around bathroom plumbing. Therefore, those areas should receive special attention during the inspection. A visual inspection of siding can also reveal areas that require closer inspection. Staining, streaking, and discoloration can indicate moisture collection.

Moisture in the home or workplace can create a wide range of problems for a property owner, ranging from structural deterioration, to health problems associated with hidden mold or certain types of pests. The well-prepared inspector will take the time to select the best moisture meter for any inspection and thoroughly canvas for moisture issues in the building.
See more FREE information about the versatile TechCheck Plus Moisture Meter here!