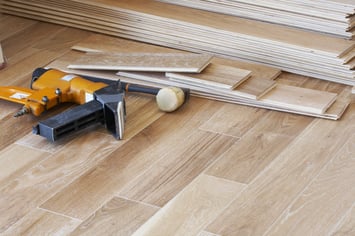 Hardwood flooring can be elegant, durable, and practical for many interior applications. Businesses use hardwood floors in their offices to create an elegant and sophisticated atmosphere while homeowners use it to create smooth, easy-to-clean surfaces that (when properly sealed) resist staining and look beautiful.
However, what many business and homeowners alike don't know about is how easily their beautiful hardwood floors can be ruined by moisture. Too much moisture can cause hardwood flooring to swell and cup. Meanwhile, too little moisture can cause the flooring to shrink and crack.
But, what would a safe level of moisture in flooring be for hardwood? And, how can you accurately measure flooring moisture to be sure that your floors are safe?
What Amount of Moisture is "Safe" for Hardwood Flooring?
The answer is: "it depends on ambient humidity and temperature conditions."
Wood is a hygroscopic material—meaning that it will gain or lose moisture until it reaches an equilibrium with its surroundings. If the surroundings are hot and dry, then wood won't be able to hold moisture for long. If the air is cold and wet, then the wood will start absorbing some of the excess moisture in the air.
This chart highlights the ideal levels of moisture in wood at various temperatures and relative humidity (RH) levels:

In this chart, you can see a small highlighted section. These are the "safest" conditions for most types of wood—between 60 and 80 degrees Fahrenheit and 30% to 50% RH. Outside of these ranges, hardwood floors might start to experience adverse effects.
Of course, a sudden shift from one temperature and level of moisture to another can also be bad for flooring—especially if such changes occur after the wood flooring has already been installed.
This is why it's important to measure moisture in flooring wood as well as the ambient temperature and humidity conditions before installing hardwood floors.
Measuring Moisture in Wood Flooring
The fastest way to measure moisture in floors is to use a moisture meter for wood. These devices can be used to test the moisture content (%MC) of wood flooring in mere seconds. Wood moisture meters for flooring applications come in two varieties: pin-type and pinless.
Pin meters use electrical resistance to measure the presence of moisture in wood flooring. Because wood is an insulator and water is a conductor, the less moisture there is in wood, the more resistance there will be, and vice versa.

Pinless meters use electromagnetic radio frequencies to "scan" hardwood floors to a fixed depth. Fluctuations in the wave are used to measure the moisture content of the wood.
Pinless meters tend to be the fastest for checking large amounts of wood flooring, while pin-type wood moisture meters tend to be better at pinpointing the depth of a moisture pocket in wood.
Overall, most people prefer to use pinless moisture meters, like the ProScan, for testing hardwood floors because they can test moisture in wood without the need to create pinholes in it.
Need more help learning how to use moisture meters to check the moisture content of wood flooring? Get the Delmhorst guide to measuring moisture in flooring systems at the link below.