While all types of concrete structures contain moisture, too much of it or an uneven distribution can cause issues in both subfloor and exposed concrete flooring. While the concrete can easily provide a strong foundation for flooring, excess moisture can create adhesion issues, microbial growth and floor expansion that can result in buckling and distortion in other forms.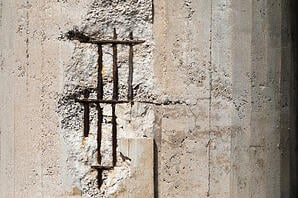 As a sign of moisture emission in a concrete sub-floor, property owners may notice discoloration in carpet or wood and the blistering of vinyl flooring.
There are various ways in which too much moisture can damage a concrete structure. For instance, pop-outs occur when porous areas in a foundation absorb too much moisture and begin expanding. When this happens, a chunk of the concrete dislodges — compromising its strength.
Spalling is another side effect. Spalling happens when the smooth top layer chips away in small pieces. The cause of this can be traced back to either water seeping into the concrete and then freezing OR the moistening of the rebar inside the concrete that causes unwanted rusting.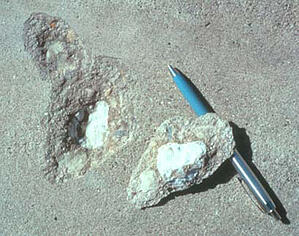 Measuring Moisture in Concrete
With these costly consequences, concrete remediation is a priority for flooring restoration professionals who are called to repair damage like this. And this doesn't just apply to projects that are strictly concrete.
Flooring or remodeling professionals who are asked to install carpet, wood or tile on top of concrete, should also test concrete moisture levels to make sure the subfloor won't create problems post-installation. For long-lasting results, there multiple testing methods that are readily available.
ASTM F2170-11
One of these methods is the ASTM standard test. This technique involves testing relative humidity (RH) within a concrete slab. The test requires drilling holes at two separate intervals: 3 holes within the first 1,000 square feet of concrete and 1 hole per 1,000 square feet thereafter.
To execute the test in compliance, it's recommended that after the holes are drilled and sleeves are inserted, 72 hours must pass before taking readings for accuracy. Probes should to be left in place for approximately one hour before able to get an accurate reading.
Calcium Chloride
Another method to measure concrete moisture is called the calcium chloride test. While most flooring manufacturers accept the calcium chloride test, it is no longer universal. The trend points toward manufacturers using the ASTMF-2170-11 as the preferred method of testing concrete moisture.
Concrete Moisture Meters
For a quicker alternative to the aforementioned methods, concrete moisture meters offer a relatively easy solution. Delmhorst moisture meters, including the TotalCheck 3-in-1 meter and the HT-4000F stand-alone thermo-hygrometer are designed to comply with ASTM F2170-11 standards for measuring concrete moisture content in-situ.
Still debating which method is best for your next project? Have no fear — contact us today to speak with one of our specialists!