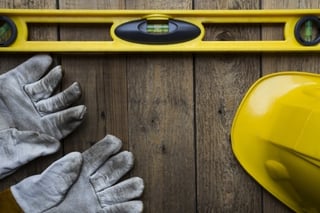 Building inspection can be highly demanding work. Customers, whether they're preparing to buy, sell, or renovate a property, expect you to find all of the potential issues so that they won't be blindsided later. Failure to catch any issues can lead to a loss of confidence in your company, which creates a host of other problems.
With this in mind, it is very important to have the right tools available when you're performing building inspections. What are the inspector tools you need in your truck now? Here are a few of the most important ones:
1: The Basics
Every contractor should have a toolbox packed with a variety of basic tools, including wrenches, hammers, tape measures, levels, screwdrivers, allen wrenches/hex keys, protective gear, etc. These tools may be necessary for a variety of reasons.
For example, levels can be used to check if floors/foundations are flat. Screwdrivers, hammers, and wrenches can be useful for opening up air vents or other objects so you can make a thorough check of the nooks and crannies of the building. Tape measures (and other measuring devices) can be used to help check the internal dimensions of rooms to verify that they match the ones specified in the building's blueprints. Protective wear, such as goggles, hard hats, and gloves help to prevent injuries from on-the-job hazards (falling objects, dust/debris particles, exposed fiberglass insulation, and the like).
In addition to this toolbox, it may be a good idea to keep a step stool and ladder in the back of your truck as well to help you access those hard-to-reach areas of a building. This will enable you to make a more thorough check of the structure.
These tools are all considered basics for anyone working in building inspection or general contracting roles.
2: Thermo-Hygrometers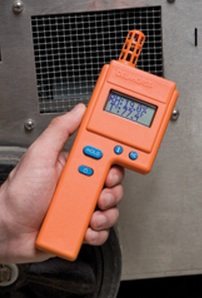 Many common issues in a structure can be related to the presence of excess moisture in the structure. Thermo-hygrometers help to check for moisture problems in a structure by monitoring the relative humidity conditions over a large area.
If humidity in a given room is high, then it is likely that there is some kind of moisture problem in that room—such as a leaky pipe, a hole in the roof that allows in water from the outside, or a similar problem.
Thermo-hygrometers can serve another purpose in checking concrete in new construction to make sure it's dry enough to be built on. For this application, additional in-situ probes are also necessary to adhere to ASTM guidelines.
3: Pinless Moisture Meters
Another key tool for finding moisture in a structure is a pinless moisture meter. This is a kind of moisture testing device that uses electromagnetic frequencies to "scan" building materials for the presence of moisture.
These devices excel at rapidly checking a large area of a structure for moisture pockets—helping you pinpoint the location of moisture intrusion sources in a building.
Many users prefer to use "reference" scale pinless meters to get a general indication of moisture. While the readings the reference scale provides are qualitative instead of quantitative, a reference scale meter can be used on many different kinds of building materials rather than being primarily useful for one kind of material.
One thing to keep in mind when using a pinless meter is that it works best with flat, solid objects that are large enough to make contact with the meter's entire scanning plate. Softer materials, or curved, uneven surfaces that keep the scanning plate from making full contact may impact the accuracy of the reading.
4: Pin-Type Moisture Meters
Pin-type meters use the principle of electrical resistance to determine the amount of moisture present between two probes.
While pinless meters are faster for finding a moisture pocket, pin-type meters tend to be more useful for pinpointing the depth of a moisture pocket and its boundaries.
Additionally, pin meters can be used on a few kinds of building materials that pinless meters aren't suited for, such as insulation (which is too loose for pinless meters) and materials with curved surfaces.
There are many types of pin meters on the market, including models that have specific scales for both wood and drywall (in addition to a reference scale mode). These different scale types make pin-type moisture meters highly versatile for checking for moisture in a variety of building materials.
Some inspectors and contractors use combination 2-in-1 devices that have both pin and pinless moisture testing modes to get the best of both worlds without having to carry two different devices.
For any contractor or inspector who has to contend with potential water damage to a structure, the moisture testing devices listed above should top their must-have contractor's tools list.
Need help finding the perfect moisture testing tools for building inspections? Contact Delmhorst to find top-of-the-line moisture measuring devices that are made in the USA to established and verifiable standards of quality and accuracy!