How Wood Moisture Meters for Flooring Save Time, Money and Headaches for Professionals and Do-It-Yourselfers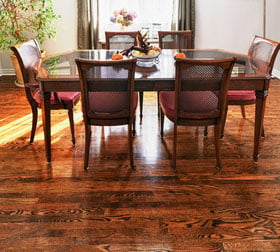 Seasoned flooring professionals rely on moisture meters to save time and money. The right moisture meter can even serve to protect their reputations when installing or repairing wood floors in new or existing construction of residential or commercial structures. They know that providing an experienced labor force, choosing the best lumber for the job, and measuring the moisture content in wood are the three essential ingredients to ensure a job well done. That means on schedule, on budget and without defects such as cracking, splitting, cupping or shrinkage. Defects such as these result in a revenue- and reputation-damaging callback to the site. They also know when to use pinless- vs. pin-type moisture meters for lumber and woodworking projects and how important it is to keep both in their toolbox.
Whether the job calls for a brand new installation or repair to a floor that's sustained serious water damage, it's critical to be certain that the wood is sufficiently dry relative to the environment around it. It's also important to use the right meter for the job. In general, pinless meters provide the convenience of quickly testing a large area and help you determine if further testing is required and where. And, they do so without a trace. A pin-type meter can measure moisture differences between the core and surface and provide the best way to identify the exact location of moisture in sub-floors. Pin-type meters leave two pin holes.
There are many meters are on the market for each and every job. The question many then ask is 'how can I find the best moisture meter for my wood flooring needs?
Pinless Moisture Meters For Flooring
Non-destructive pinless meters are best for measurement of large areas of flooring from a few hundred, to thousands of square feet. They use radio frequency signals to penetrate the wood so there are no pin marks. This is especially important for jobs that require checking and rechecking. Both professionals and do-it-yourselfers can get quick accurate results and have the confidence that their flooring project was done right.
Pin-type Moisture Meters for Flooring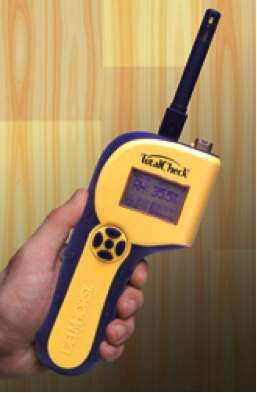 There are times when a pin-type moisture meter is the better choice. These meters provide pinpoint accuracy for locating hidden moisture that can be otherwise undetectable with a pinless meter. Hidden moisture may present itself either as a moisture gradient (a difference in moisture content between the core and the shell of the wood), or in a subfloor. Either way, hidden moisture affects the physical stability and performance of the wood for years to come. .As the two pins are pressed into the wood the measurements cover a specific local radius. This type of moisture measuring device is frequently carried by restoration professionals flooring installers that need to anticipate problem areas and do a proper job. Restoration professionals dealing with clean up from floods, fires and other natural disasters are especially concerned with meter durability and consistent accuracy. Many of the largest restoration companies use Delmhorst Pin-type Meters. In addition to using a pin type meter, it's appropriate to get proper training from the manufacturer so that the user knows how and where to measure, to avoid missing hard-to-find spots.
Delmhorst's TotalCheck 3-in-1 meter measures moisture by pin and scan modes and features a removable thermo-hygrometer attachment that measures ambient temperature and RH, and calculates dew point and GPP. High levels of ambient humidity can be a warning sign at inspection jobs, and RH is also a major concern when installing a wood floor over a concrete sub-floor.
Meter Calibration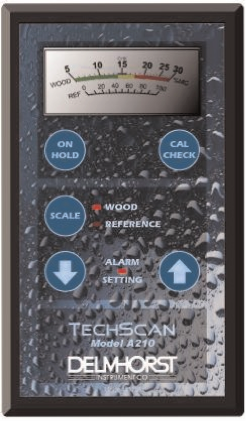 A moisture meter that's in calibration is crucial to obtain accurate results. Built-in calibration checks indicate whether or not your meter is electrically in calibration. These checks provide you with the highest integrity for all of your moisture meter readings.
Some moisture meters like the Delmhorst TechScan made in the United States have an internal calibration check. This feature offers reliable readings and avoids trouble down the road.
The TechScan is a versatile meter great for restoration. Its advanced RF technology and adjustable alarm make it easy to quickly cover large areas and locate high moisture spots.
Picking the Right Meter for Your Project
Ultimately your project dictates which meter you'll need. Some meters have other uses besides flooring, so that should be a factor if you do different kinds of work where moisture might be found.
Regardless of whether the water is coming from a broken pipe, hydrostatic pressure seepage or from high humidity, there is a meter for your task.
If you need advice on the best meter to use for your project, Delmhorst's technical support line can help you. There are numerous other resources as well available through technical training programs and the internet.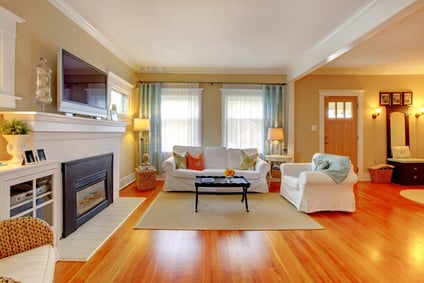 If you are a do-it-yourselfer and are in anyway unsure, call us to help you find the best moisture meter for your job. If it all seems like too much remember, there are lots of well trained professionals who are available to help with all of your flooring needs.