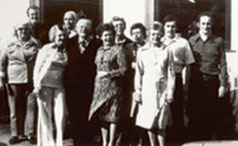 It started in 1946 with an enterprising idea. There were leaks in the roofs and plaster walls of buildings in New York City. Building superintendents needed a way to identify them for repair. Enter Bill Delmhorst and his proprietary moisture meter. He sold it to the city, and Delmhorst Instrument Co. was born.
Since then, Delmhorst built a reputation for designing, manufacturing and marketing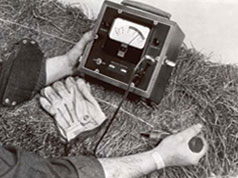 the highest quality moisture meters available on the market. Our commitment to product excellence and superior service began as a mission. Now, it is our hallmark.
Our meters provide consistent, accurate readings about the moisture level of your product. Whether you choose pin-type, or pin-free, the meters provide valuable information you need to make critical decisions.
Founder Bill Delmhorst is no longer at the helm, but Delmhorst Instrument Co. remains a family-owned business. Business partner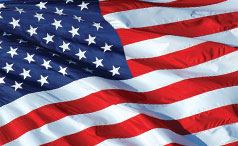 Aristide Laurenzi took over the company in 1978 with Bill's passing. Since then, the Laurenzi family has managed the company with the same dedication to quality and service. Tom, John, Sandra and Paul Laurenzi represent the second generation of leadership at Delmhorst.
As a family, we pride ourselves on delivering exceptional customer service before, during, and after the sale. Our customer support is unparalleled in the industry. We also are committed to supporting the efforts of our strong dealer network. We train distributors in the use of our product and help them identify the right assortment for their customer base.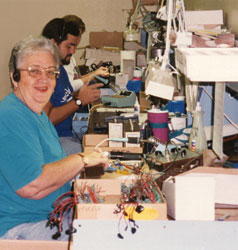 Today, we serve more industries than all of our competitors combined, and are recognized as the market leader in each of those industries. Our moisture meters are widely beneficial to a variety of applications, for example:
When disaster strikes, the financial and emotional damage can be devastating. That's why moisture meters are so critical in restoration work. Delmhorst moisture meters have saved contractors and their homeowner clients thousands of dollars and countless hours in finding the extent and precise location of water damage.
Keeping hay at proper moisture levels is key to maintaining its nutritional value, preserving its leaves, and reducing the chances of mold development and spontaneous combustion. Delmhorst moisture meters keep track of those critical levels—and help hay growers produce the highest quality hay.
A Delmhorst moisture meter is an 'inexpensive insurance policy' for flooring installations. It keeps contractors fully informed about the moisture level, minimizing the chances of defects, such as cracking, cupping and warping—avoiding costly callbacks.
Our products are constantly evolving to meet the needs of our customers. Let us know how we can help you.