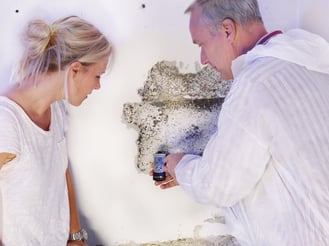 Being a distributor of moisture meters isn't always easy. It's especially difficult when you have to help inexperienced customers with their new moisture meters, process warranty requests, and make sure that you're stocking the right moisture meters for your customers.
For many moisture meter distributors, customer service is the secret ingredient that helps keep their customers coming back for more year after year. However, delivering service and support that delights customers can be a massive challenge.
Thankfully, there are a few moisture meter resources that can make delivering top-notch customer service a bit easier, such as:
1: Moisture Meter Correction Tables
One of the most common issues that new moisture meter users have with moisture meters is that if they use the meter for a material it isn't calibrated for; or in certain temperature conditions, the accuracy of the meter will be affected. Moisture meter distributors who are looking to go above and beyond with their customer service can help educate new meter users by providing them with correction tables.
These tables make it easy for moisture meter users to adjust readings based on wood species or the current temperature—enhancing meter accuracy and overall customer satisfaction with their purchase.
When providing correction tables, it's important to make sure that the one you give the customer is for the specific manufacturer whose meter the customer is using. Different manufacturers may calibrate their meters to different standards, so a species/temperature correction chart that works for one manufacturer's meters might not work for others.
2: Manufacturer Warranty Support
Handling warranty repair/replacement on your own can be an enormous hassle. However, when a moisture meter manufacturer has a strong warranty policy and repair/replacement service, handling warranty replacement and repair can be made a lot easier.
Instead of having to absorb the cost of a defective meter, you can send the meter to the manufacturer for repair and replacement. This makes it quicker, easier, and less costly to process customer warranty requests—improving your ability to serve customers.
Some moisture meter manufacturers, such as Delmhorst, even have service technicians that your customers can call to troubleshoot common issues over the phone.
3: How-To Resources and Educational Content
A lot of your customers (or their employees) might be new to using moisture meters for their work when they first come to you to buy a meter. They may not know exactly how to use a moisture meter for a particular task, or the best methods to ensure valuable and accurate moisture content measurements.
Being able to give these customers some tips for using their moisture meters effectively can make a world of difference in how positively they regard their experience with the products you carry. So, it's often well worth the time to ask customers exactly what they're planning on using the meter for, and provide them with some manufacturer-made resources that offer insight into how they can use their new moisture meter for their work.
Doing so not only helps your customers get more out of the moisture meters they buy from you, it also helps you to demonstrate that you understand their needs and challenges. This, in turn, helps you become a trusted source of help and information in the eyes of your customers.
Aside from manufacturer-made resources, it may also be a good idea to familiarize yourself with specific moisture testing standards related to the industries you serve.
For example, if you sell moisture meters and thermo-hygrometers to concrete specialists or construction contractors, then it may be a good idea to learn about the ASTM F-2170 standard for testing concrete moisture. This way, you can provide useful information to your customers and become an authority they trust.
4: Fast Shipping Straight from the Manufacturer
Many moisture meter distributors have a limited amount of space in which they can store moisture meters and accessories for customers to buy immediately. This can be a problem, as it may mean that when a customer needs a less common type of meter or accessory, you might not have it in stock.
Having access to a manufacturer who can quickly ship moisture meters and accessories to your store (or even directly to your customers) allows you to quickly fill special requests so your customers don't have to shop elsewhere. This, in turn, helps you make more sales and keeps your customers coming back for more.
For example, Delmhorst's North American location allows us to quickly ship moisture meters to any moisture meter distributor located in the continental United States. Additionally, being located in the continental U.S. means that we can receive, process, and fulfill warranty repair and replacement requests much faster than companies headquartered outside the USA.
Can you guess what each of the above items have in common? Aside from making it easier to provide excellent customer service, they're all things that are available to Delmhorst authorized distributors! Do you have access to all the resources you need to delight your moisture meter-buying customers? Get started by becoming an authorized distributor with Delmhorst today!