Being a moisture meter distributor for Delmhorst might offer you benefits than being a distributor for other moisture meter manufacturers. "What does it mean to be a Delmhorst distributor," you ask?
1: An Unwavering Dedication to Quality Solutions
For decades, Delmhorst Instrument Company has upheld a proud tradition of providing top-quality moisture measurement solutions. From 1946 to today, Delmhorst has built an industry-leading reputation for designing and manufacturing the highest-quality moisture meters on the market.
This reputation was achieved by not just holding to a high standard of quality in manufacturing, but also by incorporating customer feedback into each new design to solve customer issues.
To back up this reputation, Delmhorst has a clearly-worded warranty that supports moisture meter users and their distribution channels. When warranty repairs or replacements are needed, Delmhorst's U.S.-based service center helps ensure rapid turnarounds to ensure reliable productivity that adds to your bottom line.
2: Strong Support from Your Manufacturer
Aside from simplifying warranty issues by handling them in-house, Delmhorst provides support to distributors in a number of ways, including:
Sales Support.

Delmhorst distributors get access to exclusive resources and promotional materials to help them give customers insight into the benefits of moisture meters.

Customer Service Support.

From in-field application questions to providing customers with tutorials on how to use a specific moisture meter feature, Delmhorst makes customer support easy by providing reliable support from a U.S.-based location.

Fast Delivery of Special Orders.

If you don't have the Delmhorst moisture meter your customers want in stock, Delmhorst's North American location helps minimize the time it takes to receive your order so your customers don't have to shop elsewhere.

Online "How-To" and Informational Guides. Delmhorst has a variety of informative resources that include eGuides on topics as broad as basic use of a moisture meter and as specific as useful tips for a particular application or industry.If you have questions, Delmhorst has your answers.
3: Convenient Upsell Opportunities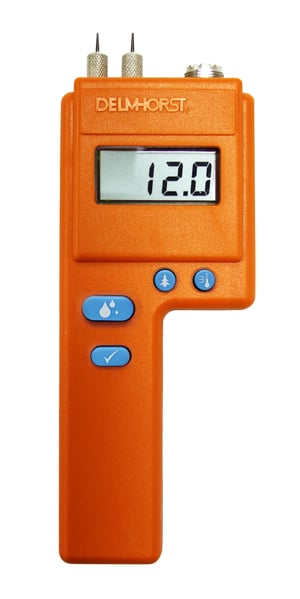 All of Delmhorst's pin-type moisture meters feature a "Universal Delmhorst Probe" connector on them. These connectors can accept any Delmhorst probe—making it easy to upsell your customers any special attachments they might need now or in the future.
This helps keep your customers coming back for more, and avoids frustrations concerning mixing and matching specific moisture meters to specific probe types.
Other upsell opportunities that Delmhorst provides include:
Spare Contact Pins.

No matter how rugged a pin meter is, the electrodes will eventually wear out. Delmhorst offers spare contact pins to allow your end users to quickly and easily replace the pins on their Delmhorst moisture meters. These pins are available in a variety of styles to accommodate all sorts of specialist needs as well—providing more upsell opportunities for users who need specific pin lengths.
Moisture Content Standards.

A Moisture Content Standard, or MCS, is a device that lets users check the accuracy of their moisture meters in the field. These tools let your users know that they're getting accurate readings, which builds trust. It also creates a meter-specific upsell opportunity for you, since each standard has to be made for a specific meter.
Salt Solution Test Kits.

Salt solution test kits are how the accuracy of thermo-hygrometers can be tested. Given the built-in sensor tolerance of hygrometers, and how sensor elements can degrade over time, this is an especially important tool for users to verify accuracy.
Carry Cases.

Part of ensuring that moisture meters remain accurate and functional for as long as possible is protecting them when they're not in use. Optional carry cases can be upsold to customers who want to keep their moisture meters in tip-top shape for years of use.
It's all a part of making sure the end user experience is as positive as possible.
Becoming a Delmhorst moisture meter distributor means becoming part of a long history of excellence—and becoming part of an extended family that helps one another. At Delmhorst, we all believe that the success of our distributors is also our success. So, we all work to help each and every last one of our distributors succeed.