Moisture meters are critical tools for a surprising number of industries. Whether you have customers in the water damage restoration, construction, flooring, wood/lumber production, or agricultural industries, the odds are that they can benefit from you having some moisture testing tools on hand for them to purchase.
So, just how can your business improve by becoming a moisture meter distributor? Here are a few ways:
1: By Becoming a "One-Stop" Shop for Customers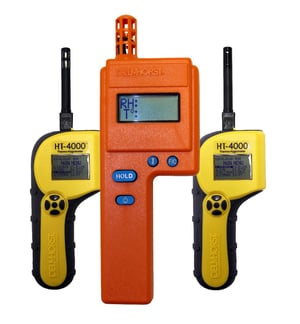 Adding moisture meters to your store's stock helps move you closer to being a one-stop shop for all of your customers' needs. This is especially true for businesses that specialize in serving any of the industries mentioned above.
For example, many flooring retailers stock various installation necessities beyond the actual flooring they sell: carpentry nails, hammers, adhesives, floor wax, wood putty, and the like. Moisture meters are another critical tool for ensuring a top-quality installation. By carrying them, you can ensure that your customers don't have to go elsewhere to complete their toolkit.
Becoming their "go-to" resource means that a customer will be less likely to shop elsewhere for their moisture meters, which results in more business for you.
2: By Expanding Your Ability to Help Customers
When you become a moisture meter distributor, that may mean having access to a ton of extra resources from all of the moisture meter manufacturers whose products you stock. While it may be a lot to learn, this does offer the benefit of allowing you to expand the ways you can help customers.
For example, say that you have a customer who needs to measure moisture in concrete subfloors. As a Delmhorst moisture meter distributor, you'd have access to many resources about how to measure moisture in concrete under the ASTM F-2170 standard—including a list of the different tools they'd need and how to ensure accurate moisture measurements in concrete.
Or, say you have a customer who needs to make sure that their hay bales don't explode from excess moisture (yes, this can happen). Here, you could share some information about how to measure moisture in hay with the customer so they can avoid risk.
In both of the above examples, you're likely to impress your customer with your knowledge of their needs and make them trust you as their go-to resource for moisture-related issues in their industry.
3: By Creating Upsell Opportunities
In both of the examples listed earlier—the customer who needs to monitor concrete moisture and the one who needs to measure moisture in hay bales—businesses that are moisture meter distributors will have a key advantage in that they can upsell the tools that those customers will need to carry out their moisture tests.
For example, to follow the ASTM F-2170 standard, a customer will need:
A drill that can penetrate to 40% of the concrete slab's depth.

Sensor sleeves with caps and sealant to close the holes.

In-situ probes that can be inserted into the sensor sleeves.

A thermo-hygrometer to connect to the probes and take moisture measurements.
Three of these items (sensor sleeves, probes, and thermo-hygrometer) are products that moisture meter distributors can offer to their customers—creating an opportunity to upsell those customers something they need.
With hay moisture testing, extended-length probes will be needed to get to the center of the bale to ensure a complete assessment of the bale's moisture content.
By creating these upsell opportunities, not only do you increase your sales, you create new opportunities to satisfy your customers' needs.
4: By Getting Access to the Moisture Meter Manufacturer's Resources
Moisture meter manufacturers, like Delmhorst, are dedicated to the success of their distributor networks. That's why we spend so much time on creating resources like flooring moisture guides, moisture meter 101 guides, and other informational eBooks, whitepapers, and infographics.
Members of our distributor network get free access to numerous moisture meter resources from Delmhorst as well as our U.S.-based support team. When your customers have an issue with their Delmhorst moisture meter, we'll help you make it right with them.
Want to join our distributor network so you can be a Delmhorst distributor? Contact Delmhorst today to get started.