When you're repairing water damage, it's important to know that not all restoration contractors are created equal. Whether you're a homeowner dealing with a burst pipe flood or a commercial property manager cleaning up after a sprinkler system activation, properly checking the extent of the water damage is the first thing to do when the water is stopped. A proper water damage survey can mean the difference between "once and done" or years of recurring problems and expenses. Choosing the right restoration contractor to do the work can make the difference between a smooth restoration and insurance claim process or a cycle of continuing problems.
Work with a Restoration Contractor Who Can Act Promptly
When you're dealing with water damage, assessing within the first 24 hours makes a big difference—and good restoration contractors know that and make it a priority. If a contractor isn't prepared to act quickly, he may not have the knowledge or commitment necessary to do the job right. Or, he may simply be too busy. In either case, he may not be the best person for the job. Work with someone who is prepared to take the quick action and explains their plan to successfully restore your property.
Hire a Contractor Who Makes a Thorough Inspection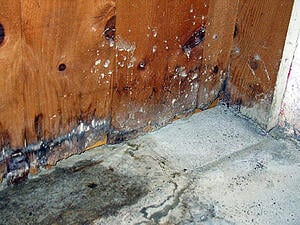 Be wary if a contractor makes generalizations or thinks that a visual inspection will suffice. There may be moisture lurking behind walls, in the subfloor, under tile and grout and in a variety of other locations that aren't immediately obvious. And, where water damage has occurred, the surface may have dried while leaving hidden moisture behind. That moisture can lead to mold growth and wreak havoc under your floors, inside your walls and in other areas you can't see. The right restoration contractor will carefully check those areas, even if he doesn't immediately spot danger signs when he looks over your property.
Make Sure Your Restoration Contractor Has the Right Equipment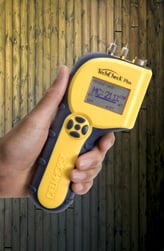 Getting the job done right requires more than just a knowledgeable and hard-working contractor. Your contractor must have the right tools in order to do a thorough job and avoid recurring problems. When you're dealing with water damage—or even the possibility of water damage—the right moisture meters are critical to the project.
In determining which areas require further investigation and/or repair, a contractor should never rely on his eyes alone. A pinless moisture meter allows for quick, easy and non-invasive scanning of walls, floors and building materials to determine whether there are potential moisture problems below the surface. If your contractor isn't using a meter to find trouble spots, ask why. Depending on the results of that quick scan, your contractor may also need a pin-type moisture meter to get more specific and targeted readings.
Don't wait until your contractor appears on the scene to find out whether he has the right knowledge and the right equipment. Ask questions during your initial call to learn more about his process, including his timeline and the equipment he'll employ to get your restoration project underway.