Thermo-hygrometers, or relative humidity (RH) meters, are powerful instruments used on large construction materials like concrete to measure the presence of moisture. By measuring RH and temperature, thermo-hygrometers enable contractors and craftsmen to know when a material is ready. As conventional pin meters can't penetrate settling concrete, effective thermo-hygrometers are essential tools for concrete handlers.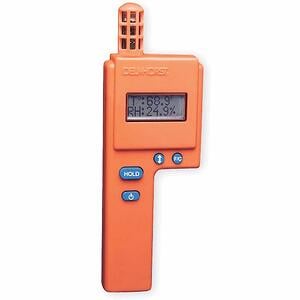 Able to deliver extremely accurate and quick readings, most thermo-hygrometers come with a rugged and sturdy body which is ideal for active construction sites. However, powerful moisture detecting instruments like these must be taken care of properly to prolong the meter's lifespan and maintain the same quality and effectiveness of its first use.
Maintaining your RH meter's condition is crucial to generating accurate readings and ultimately in your project's success. Inaccurate readings, caused by meter sensor interference and fading calibration, can void construction contracts and material warranties — and can even completely halt construction operations.
Exposure and Conditions
Many professionals who use thermo-hygrometers suggest storing them in a dry and clean place. Extreme temperature conditions, outside of the -4F to 140F range, can offset calibration and sensor signals.
It's also beneficial to keep air exposure to a minimum near the meter's sensors. As airborne contaminants harm the units and can speed their aging, keeping meters in their packaging or other protective coverings can prevent this.
Sensors commonly lose calibration through exposure to harmful materials and chemicals, such as:
Plastics
Adhesive tape
Adhesive chemicals
PVC
Acetate
Delrin
Polystyrene
Specifically, high levels of chemical exposure can permanently damage meter sensors by affecting the sensing polymer. Diffusion of chemical and harmful substances into the sensing polymer can shift calibration and affect the meter's sensitivity. In extreme circumstances, exposure can irreparably damage thermo-hygrometers in mere hours.
For optimal use, sensors should only be exposed to outside elements for the minimum time possible during use and never be stored in toolboxes or carrying cases.
The sensor itself should NOT be touched, washed or come in contact with any material, as the sensor is what performs the basic thermo-hygrometer functions. Being able to appropriately verify the calibration of your sensor and thermo-hygrometer is key to getting consistently accurate readings.
Maintaining Calibration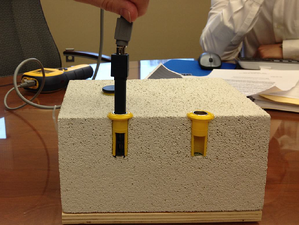 Properly setting and managing an RH meter's calibration is of the utmost importance. And there are many factors that can wear against calibration and decrease its efficiency, such as mishandling or chemical interaction.
Verifying calibration before and after use maintains the accuracy of thermo-hygrometers, and protection from outside chemicals or harmful substances serves to preserve the calibration.
Thermo-hygrometers are most effective in (and maintain their calibration in) controlled, stable environments with no fluctuating temperature or frequent location changes. Proper storage and care for thermo-hygrometers can result in accurate meter readings for years, while exposure to outside forces can limit calibration life to a matter of months.
Eventually, all RH sensors will lose their calibration, but there are simple preventable measures you can take to extend and make the most of sensor calibration. When your meter's sensors do lose calibration, a simple sensor replacement can counter the loss and return your meter to prime functionality.
In-field verification of your thermo-hygrometer's calibration can be done through multiple means, including having an unused second sensor for reference on-site or by conducting a salt solution test.
Placing sensors in salt solutions is a time-tested industry technique. The regulated solutions generate a controlled RH level over a period of hours and accurately calibrated sensors in the solutions will measure that exact level present in the solution.
It is also important to maintain a stable temperature (never in a humid environment) for accurate salt solution readings.
Aging Sensors & Components
Another common source of incorrect readings, aging RH sensors gather tiny contaminant particles over prolonged use and exposure to moisture. This buildup of material deposits eventually changes the properties, calibration and response time of the sensor material.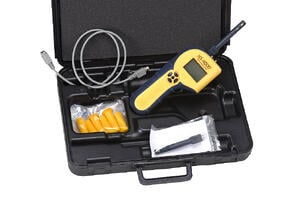 To counter this, replacement of humidity sensors may be necessary. The lifespan of a RH meter sensor all depends on how well the device is treated and handled, as well as frequency of use and correct initial calibration.
Occasional cleaning of the outer shell of the meter may improve performance, but there is no method of cleaning the actual sensor within the device, as contact will only introduce additional contaminants.
To learn more about relative humidity meters, or how to keep yours in tip-top shape, feel free to contact us today.