Recently, we've talked about the importance of having a moisture meter for taking measurements in hay. With one of these handy devices, you can quickly assess your hay for moisture-related risks such as rot. The question, then, is "what are the best hay moisture meters?"
To answer this pressing question, we here at Delmhorst have assembled a list of our best moisture meters for use in hay and related applications.
First thing first, we generally do not recommend pinless moisture meters for hay. Because hay is a loosely packed substance with no solid, flat surface, pinless meters cannot get a good reading of moisture in hay. For this reason, our list of Delmhorst's best moisture meters for hay will largely be dominated by probe-type meters that use electrodes.
Moisture Meter for Hay #1: The FX-2000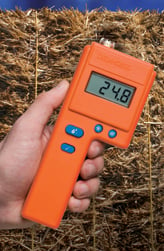 This is Delmhorst's state of the art meter tailored to the needs of high-volume hay producers who need to take lots of measurements on the go. Whether taking measurements in the windrows on the field before baling, during baling or after the bales have been made, the FX-2000 is the ideal tool for hay makers.
Features of this top-of-the-line device include:
Clear, easy-to-read digital display.
Two modes: one for continuous moisture measuring and a portable mode.

Continuous mode is ideal for taking measurement during baling, taking two readings per second and allowing the meter to be plugged into the tractor's power supply.
Portable mode is great for taking measurements in windrows or in finished bales. This mode averages up to 100 readings, displaying both the average and the highest of these readings.
Moisture range of 6% to 40% in hay.
Built-in calibration check.
Adjustable alarm that alerts you when you have exceeded a pre-set %MC in hay.
There are multiple different package options available for the FX-2000, such as the deluxe package with a 1986 bale sensor with cable and mounting bracket, H-4 handle, 830-2 10" probe and 831 windrow probe, or the deluxe 18" package which features an 830-3 18" probe.
Moisture Meter for Hay #2: The F-2000
Need a reliable moisture meter with top of the line features, but don't want to measure moisture while you're baling? The F-2000 moisture meter is your solution.
The F-2000 possesses many of the same features of the FX-2000 in its portable mode. It has the same bright digital display and the ability to average up to 100 accumulated readings. This meter is also highly accurate, able to read moisture content between 6% and 40% with ease, and you can set an alarm that will go off when you reach a specific %MC.
The F-2000 is an efficient, capable moisture meter for measuring moisture in hay bales and in windrows on the field. As with the FX-2000, this moisture meter has a variety of packages available for it that allow you to get the probes and attachments that are the best fit for your needs.
Moisture Meter for Hay #3 & 4: The F-6 and the F-6-30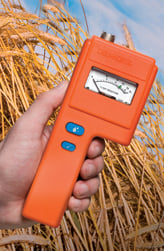 Do you prefer analog displays to digital ones? Then the F-6 and the F-6-30 meters are your go-to moisture meters for hay. These moisture meters feature simplified controls, making them easy for newbies to learn, but are still reliable and accurate enough for seasoned hay makers. The F-6-30, in particular, is ideal for those who make hay for export to markets that require lower %MC in their hay.
Both of these meters feature:
An easy-to-read analog display.
Built-in calibration checks.
Options for packages with a 1235 10" probe, 830-2 10" and 831 windrow probes, or an 830-3 18" probe.
Rugged construction and reliability.
The main point of difference between these two meters is that the F-6-30 measures %MC in the 6% to 30% range in hay, while the F-6's range is 13% to 40%. This makes the F-6-30 better for measuring moisture when minimal moisture conditions are desirable, and the F-6 meter more ideal for measuring moisture content in hay that can possess higher moisture levels to maintain nutritive value.
Moisture Meter for Hay #5: The HT-3000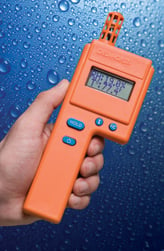 Surprise! The final meter on this list is not a pin-type meter that uses extended-length probes. Instead, this particular product is a thermo-hygrometer which can be used to verify that the relative humidity and temperature of your hay storage area are in the right range for hay storage (or the storage of any other agricultural products).
The HT-3000 boasts a simple, easy to understand interface and rapid acclimation, making it perfect for verifying the conditions in your hay storage quickly and easily. Other features of this useful tool include:
A bright, clear digital display.
Relative Humidity reading range that goes from 0% to 100%.
Operational temperature range of -4 °F to 158 °F.
Automatic power down to save battery life.
Reading hold feature.
Using the HT-3000, you can verify that you have safe storage conditions for your hay and rest easy in that knowledge.
All of these Delmhorst meters have rugged construction, are lightweight for easy handling, and are backed by our one-year warranty. If you need a tough, reliable tool to measure moisture in your hay, look no further than Delmhorst.