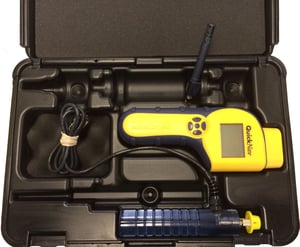 Fires are a constant hazard for modern homes and offices. From electrical fires that occur when circuitry shorts out, to cooking accidents involving burning grease, to acts of arson, to naturally-occurring forest fires that blaze near residential and commercial buildings, there are many ways for a building to sustain fire damage.
Fire damage restoration companies are often called in to assess the overall damage from a structure fire, helping home and business owners sort through damaged furniture and possessions to identify the items that may be recoverable and those that are beyond repair.
While most people are aware of the harm flames can do to a structure, what they often forget is how a blaze can lead to water damage as well. This is why many fire damage restoration experts also carry moisture meters on the job.
How Can a Fire Cause Water Damage?
It may seem odd, but there are several ways in which a structure fire can lead to water damage later on:
Firefighting Efforts. One of the most common sources of water damage immediately following a fire is the water intrusion that can occur when firefighters use high-pressure water from a hydrant to douse the fire. This water can flood a structure and pool in different areas, leading to problems later on.
Burst/Damaged Pipes. Severe fires can eat through a structure's walls, causing damage to the utility infrastructure hidden within. Some fires can even cause sufficient damage to pipes that causes them to burst or partially melt (depending on the pipe's material, some are more susceptible than others). This leads to many of the same issues as a typical burst pipe, but with added complications from the fire damage.
Compromised Structure Exteriors. When the exterior walls or ceiling of a structure is burned through during a fire, outside moisture can easily intrude. This can compound the damage from the initial fire, exacerbating the situation.
Because of these issues, many fire damage restoration experts also need to specialize in water damage restoration.
Using Moisture Meters in Fire Damage Restoration
In many cases, using moisture meters for fire damage restoration is similar to water damage restoration. For example, restoration moisture meters can be used to pinpoint moisture intrusion sources in a structure. This helps experts find any ongoing sources of moisture intrusion so they can be remediated first—helping to prevent water damage from worsening.
Restoration moisture meters can also be used to help detect moisture pockets that may be left over in a structure from firefighting efforts. These moisture pockets can then be remediated according to the restoration expert's best judgement.
Another use for moisture meters in fire damage restoration is to help document the extent of the damage caused by the fire—or by the firefighting efforts. Tracking moisture deposits in the structure and measuring just how moisture-compromised different materials and objects throughout the structure are can help prove the necessity of restoration efforts for insurance claims.
Additionally, restoration moisture meters can be an important tool for helping experts save time and money on their major projects by helping to pinpoint moisture intrusion sources and reducing callbacks. In fact, with the right moisture meter, restoration experts can record, store, and export their moisture test results—complete with a date and time stamp—effectively documenting their work for both their clients and for insurance companies.
Want to know more about how to use moisture meters for restoration work? Check out Delmhorst's free Restoration Guide at the link below, or contact us directly!