Should water infiltrate your property during a flood, having a moisture meter on hand plays an essential role in identifying the amount of damage and penetration within the structure. Moisture meters help property owners file in-depth insurance claims which detail the damage in actual numbers.
Property owners can also save thousands in later repairs when the water presence and damage is accurately documented immediately following a flood.
File More Accurate Insurance Claims
Water damage comes from different kinds of circumstances, not just floods. Leaky dishwashers and washing machines have been other common mishaps that have led to severe damage. Making use of a professional grade moisture meter drastically improves the process of filing insurance claims due to its accuracy, dependency and statistical data.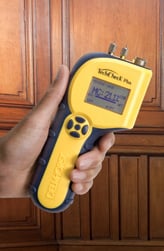 Whether you're a homeowner or property manager, moisture meters work in your favor as they can identify more heavily affected areas and detail how severe the moisture is within certain materials

Not every area of moisture is easily identified by the naked eye, and as a result, is often left untreated — causing great danger and costly repairs down the road. In addition to the monetary reasons in filing an insurance claim, safety is also a major concern. Water damage, depending on its severity, can affect the structural integrity of a building to the point where managers may deem the space to be unfit to live in.
For property owners, a more accurate report of the damage in the insurance claim allows them to easily predict their losses and plan for the future.
Meters & Their Role in Water Restoration
Beyond detection, moisture meters also serve a role in streamlining of the restoration process. The ability to precisely detect water damage and moisture pockets within a surface, allows restoration contractors to save thousands on repairs. Contractors are able to effectively focus their work in the most needed areas when a meter is able to locate the spots that have the most moisture.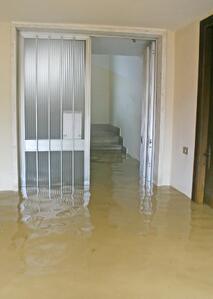 Meters are able to reach areas that many property owners may overlook or not suspect of being affected by moisture. Damage to these lesser-suspected areas can save thousands of dollars in damages. These at-risk areas include:
Property foundation

Basement walls, flooring & structural bases

Spaces between layers of drywall, plaster & insulation

Concrete subfloors, and surfaces beneath carpet & tile
As Paul Laurenzi, our VP of Sales and Marketing, explained to the press following Hurricane Sandy in 2012, "after a structure has been sitting for some time without remediation, it is more likely that materials must be ripped out and replaced instead of dried."
Detecting damages earlier in the claim and restoration process following a significant water penetration is an invaluable advantage of moisture meters.
Using moisture meters to precisely measure penetration levels during the repair and drying process assures that property owners more effectively reinforce damaged areas. Due to the fact that effective structural drying is a process in itself, moisture meters can also measure the progress of repairs and elimination of trapped moisture.
To learn more about assessing and recovering from flood damage with the help of moisture meters, or to learn what other services its technology can provide, feel free to contact us today! Our representatives look forward to answering your questions and helping your select the perfect moisture meter for your property.