In most of North America, the hops harvest starts in late August, while cultivation of hops goes on from April to early July. As noted by the American Hop Museum website, cultivation of hops helps to "control excess shoot growth" and "provides weed control, and improves soil texture."
With the season for cultivation being over and the harvest coming soon, there's just one question for every hops farmer: are you ready for the hops harvest season?
Here's a quick checklist to help you out:
Moisture Meters. Do you have a reliable hops moisture meter that you can use at each phase of the harvest process to make sure that your hops are always at the right moisture content before moving on to the next step?

Top/Bottom Cutters. Do you have the specialized equipment to quickly cut vines at a point three feet up the trellis and to cut them from the overhead support wires?


Picking Machines. Do you have a fully-functional picking machine to separate the hops from the vines quickly and consistently? Can your picker take the vines and mulch them quickly to act as fertilizer for your soil?


Kiln. Is your kiln fully functional and able to hold your entire hops harvest? Are the air flows of your kiln free of obstructions?


Cooling Room. Is your cooling room free of moisture intrusion sources? Could a leak compromise your dried hops?


Balers.

Are your balers well-maintained? Are they clean and free of mechanical problems that could delay baling or damage your product?
One of the most important tools that farmers need on that list is a hops moisture meter.
Why Do You NEED a Moisture Meter for Hops?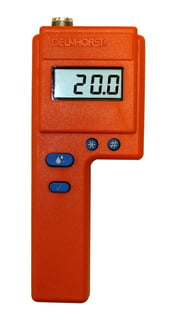 To get the best-quality hops, the moisture of your hops needs to be strictly monitored and controlled at each phase of the harvest process.
For example, making the initial cut of your hops when they reach their ideal moisture content helps you maximize your yields and quality. Without a moisture meter, how can you determine if hops are at the right moisture content?
Sure, you can use a dehydrator on the hops, but that takes hours to do, and destroys the hops you're testing in the process. Moisture meters allow you to take a reading of hop moisture in the field in a matter of seconds, without ruining your hops in the process.
This lets you know right away when your hops are at the ideal moisture content for harvest.
Additionally, when you're drying out your hops in the kiln, a moisture meter can let you know if your hops have dried out enough for baling. By actually checking the hops throughout your drying process, you can avoid over-drying and damaging your hops in the kiln.
Finally, moisture meters make it easier to check the moisture of your stored hop bales. This lets you make sure your stored bales aren't at risk of developing rot, or crumbling and losing quality.
Using moisture meters lets you test your hops at every step of the harvesting process from start to finish, quickly, and without causing damage to your hops.
Get ready for hops harvesting season with a top-of-the-line hops moisture meter from Delmhorst today!